When the MV Albedo was hijacked by Somali pirates in the Indian ocean, about 900 nautical miles east of Mogadishu, nearly 18 months ago, they took hostage 23 crew members, including six Sri Lankans. Since then, they have been living in squalid conditions, growing gaunter by the day.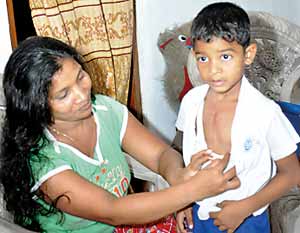 Shamika shows the scars from her son's surgery. Pix by Susantha Liyanawatte
For their families, it's a life of unspeakable misery and anxiety.
Danura Perera, whose father, G.P.C. Perera is a hostage, was 16, having just sat for the OL, when news broke of the MV Albedo's capture in November 2010. "It was on TV, we heard that the ship our father was on, had gone missing," he remembers.
There followed a period of 15 days, when the six sailors' families lived in fear of their breadwinners' survival. When news came that everyone onboard the ship was alive, if not entirely well treated, the families were jubilant, and hopeful of an early reunion, as officials assured them that the men would be released within two weeks. Their hopes were short lived, as the two weeks came and went, with no signs of the hostage release. They still wait, hoping for a miracle that seems unlikely.
"I've contacted every possible authority, every possible person with even the most remote contact to my father," says Danura. "People are avoiding my calls now. But I keep trying, because I want to get my father out of there somehow," he said.
Helped by his missing father's friend Jack, and his aunt Menik, Danura and his mother spend the best part of every day making contact with the ship's owner, a Malaysian man, Omid, the shipping agency who is responsible for his fathers recruitment, and the wife of the captain of the MV Albedo. She has spearheaded the "Save MV Albedo" campaign (savemvalbedo.com) in Pakistan.
The pirates, initially, demanded a ransom of US$ 10 million (about LKR 1 billion), which has now been scaled down to US$ 2.85 million, when it was made clear that the ransom would not be paid. This would be made as expenses incurred in the running of the ship. The Citizen's Police Liaison Committee from Pakistan, which is negotiating with the pirates for the release of the men, has negotiated to pay US$ 1.7 million of the amount, with the balance to be paid by the ship's owner.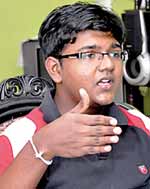 Danura: Fighting a lone battle
Meanwhile, Sri Lanka's Ministry of External Affairs says its hands are tied. Under the UN Convention on the Law of the Sea (Article 100), States must cooperate in the combat of piracy, a fact that makes it impossible for the government to pay the ransom. "We have been in contact with the ship's owner and the International Maritime Bureau's Piracy Reporting Center in Kuala Lampur, through our mission in Malaysia," said a spokesman for the ministry.
Sri Lankan representative for Majestic Enrich Shipping Ltd (represented here by GRT Shipping (Pvt) Ltd), the agency which sent four of the six Sri Lankans, M. Imran Khalid says that the lack of response from the relevant authorities is disheartening. "The ship's owner last spoke to us about three months ago, and after that he has cut off contact with us," Mr. Khalid said.
Weerasena Silva, one of the fisherman recently rescued from the clutches of Somali pirates, along with his fellow captives, had the opportunity of boarding MV Albedo at one point."The men are free to roam aboard the ship. Apart from a little physical exertion when pulling up water from land onto the ship, they have nothing else to do all day. Food is adequate, at least, but there's a scarcity of water, and that's a big problem," he said.
Another family which has lost its breadwinner to the pirates is that of S.D. Anthony Niroshan Perera, a welder-fitter on the MV Albedo. His wife Shamika Perera is at her wits end, as she reveals the situation of her family of three boys aged 6-11. The youngest is afflicted by a heart disease, and has to be regularly taken to hospital for checkups. Shamika shows us his scars from a previous surgery.
While help poured in initially, due to her child's sickness, she now laments that the authorities have forgotten these families. " With my husband gone, there is no breadwinner for the family. I have three children to look after, and we were building our house when he left. Now all that has come to a halt. The debts are mounting, and we have no way of settling them."
The last Shamika spoke to her husband was in December last year. "The first time he spoke, just after the abduction, he was sobbing. They were beating my husband and his mates, and we were very scared. But last time I spoke to him, he seemed calm. He said to sell whatever valuables we have and look after the children, and to not worry about him. "I just want him back," Shamika sighs.