Since the price of gas went up, office workers frequenting restaurants are paying Rs. 10 and Rs. 5 more for a meal and a cup of tea respectively,. "Most private and government sector workers eat out, but lately we have been hit by higher prices,"K. Priyantha of Kelaniya told the Sunday Times. "I have a family to look after. I have two sons. I don't spend on myself, but on my children. I leave home early to go to my office in Nugegoda. I have my lunch at a small hotel next to my office. Now I have to pay more for my food. I am a private sector salesman with a monthly salary of Rs. 20,000. I have to count every cent I spend."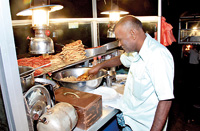 This man at Galle Face has not jacked up the prices of his isso vadei, koththu etc as he has turned to kerosene in the face of high gas prices. Pic by Indika Handuwala
Dehiwala resident Nilan Wijewickrama said, "Not long ago I could buy a packet of fried rice for Rs. 110. Now an ordinary packet of vegetable rice costs that much. A cup of tea has gone up by Rs. 5. I spend up to Rs. 5,000 a month just for my lunch. I spend a third of my earnings on food and the rest goes on travelling."
Ajith Jayasooriya, a crane operator from Ambalangoda working for the Colombo Municipal Council, said, "Whatever the price of a lunch packet, we still have to eat out. If the government increased our salaries, it wouldn't be so difficult for us."
Restaurant owners say they are forced to charge more after the cost of gas and milk powder went up.
M. Ariff, who owns a hotel at Hyde Park corner, said the demand for lunch packets has not dropped even after the prices went up.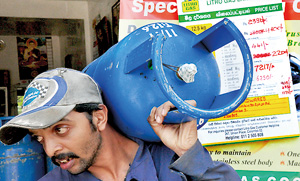 A deliveryman carries a gas cylinder on his shoulders while in the background a board shows the revised prices
A few restaurants continue to charge the old prices. Suranimala Weerarathne runs a restaurant in Slave Island. He said business has improved because his prices are more competitive. "We are managing, although our profits are not that great."

Traders cannot revise price of milk powder
It is a violation of the law to alter the price marked on a packet of milk, warned Consumer Affairs Authority chairman Rumy Marzook. The warning comes after it was revealed that a number of traders have put stickers to hide the original marked price. The price of milk powder was revised last week.
Consumers have made a string of complaints that soon after the price of milk powder went up they found labels with a new price pasted on the old. Consumers who had challenged traders on the new prices were told the seller had a right to increase the price.
The consumer is the first consideration of the Consumer Affairs Authority, Mr. Marzook told the Sunday Times. "Just because the producers or distributors apply for a price increase on milk powder does not mean they get it."
Such applications are studied and forwarded to the CAA's price committee, which in turn invites the company representatives to discuss the matter with CAA officials. "We evaluate the price only after this procedure is followed," he said.