No relief is being sought at this stage for the aggrieved party, film actress Anjela Seneviratne's counsel informed the Colombo Fort Magistrate's Court when the hashish case involving two British nationals came up before the Colombo Fort Magistrate on Thursday (May 10).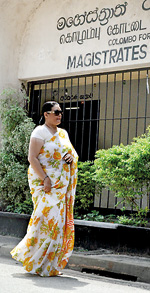 Anjela arriving in court. Pic by Nisal Baduge
Counsel Upul Jayasuriya appearing for the actress said he would make an application at the conclusion of the inquiry. Counsel earlier informed court that as a result of the incident his client had lost her employment at the Saudi Embassy although the police found that the actress was not involved in the incident where hashish was found in a parcel containing magazines coming from New Delhi.
Counsel also said that the wide media publicity the incident received had damaged the actress's good reputation. Earlier, the Police Narcotics Bureau (PNB) moved an application to obtain a specimen of the handwriting of the third suspect, a British national who was responsible for mailing the parcel and preparing documents to receive it in Colombo.
In this incident two British nationals had gone to the Central Mail Exchange on April 18 to collect a parcel with a letter purportedly written by the actress with her signature. The parcel contained 366.7 g of hashish. One suspect was arrested at the mail exchange and the other at the BIA while attempting to flee the country.
It was revealed that the actress had left the house in Hudson Road, Kollupitiya ten years ago, but continued to receive letters in her name. The two British nationals and a Sri Lankan are suspects in the incident.
The PNB is conducting investigations.