The Sri Lanka-England Test series which concluded yesterday also was of importance for the home side in a way. It was 30 years ago, February 1982 to be exact, when Sri Lanka first played at Test match against England and yesterday's match was more or less an anniversary encounter for both teams. Even in that game it was an off spinner – John Emburey who made the difference between the two teams.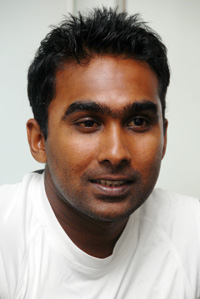 After their 8-wicket defeat against England at the P. Sara Oval yesterday which prevented Sri Lanka from winning a Test series since their 2-0 win against New Zealand in 2009. Skipper Mahela Jayawardene lamented the flaws in their batting. "Our batters lost control on the first couple of days and that could have been a vital point in losing the game's grasp," Jayawardene told reporters at the post match press conference.
Sri Lanka after having successively lost Test series against England, South Africa, Pakistan and Australia won their first match on home soil after July 2010 at Galle last weekend. Sri Lanka had all probable aspects of sweeping the two-match Test series. Sri Lanka won the toss and elected to bat, a decision which was reasonable according to cricket experts but in contrast to predictions failed to score a challenging total in their first innings. 400 plus runs would have been enough to give England a tough challenge but instead the home team was bundled out for 275, a total below par.
"It was the main cause of our defeat. The batsmen failed to deliver the goods. Had we scored heavier in the first innings we would have had the upper hand in sweeping a series win. The English batsmen outdid us in that aspect," he added.
However Jayawardene emerged as the most successful among batsmen for Sri Lanka with 354 runs in four innings, with the best of 180 in Galle, which is also the best knock in the series. He scored two centuries in total and a fighting 64 at P. Sara Oval with an average of 88.50 in two matches winning the man of the series award. From the bowlers left-arm Rangana Herath claimed 19 wickets from the series with three six wicket hauls followed by off-spinner Suraj Randiv who finished the series with seven wickets. Jayawardene commended Herath's efforts as a spinner but also pointed out the importance of going in for newcomers in the Test side.
"Rangana (Herath) is the main spin bowler we have at the moment. He has been consistent and at the same time he is playing the role that Murali (Muttiah Muralitharan) once played for Sri Lanka. He has the ability to turn on any wicket. We also have Suraj Randiv but I think we should start looking for new spinners so it will ease the pressure off Rangana," he added.