Traditional rivals at "Bradby Shield" encounter Trinity College and Royal College will go out as the top two sides to clinch the Singer Schools League under 20 this year. Royal are the defending champions and Trinity ended as number three last year in the league. Meanwhile the lads from Kandy won the Under 20 knock-out tournament last year.
Trinity will be led by crack centre, national Youth player and Commonwealth Sevens representative Kanil Seneviratne who will have 6 of their last year players. Kanil who had a remarkable year in 2011 was outstanding at the Commonwealth Sevens in the Isle of Man where the national team won the Bowl. Randika Alwis and scrum half Sanjay Somasiri too represented Sri Lanka on this tour. Other seniors in the squad are: Sanjay Sheik, Basu Karunatilake and Thisira Karunatilake.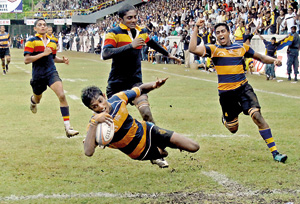 A Royal player goes over for a try against Trinity last year.
Trinity will more have New Zealander Neil Footy as their Technical Advisor with Nilufer Ibrahim as their Head Coach. They will kick off the season with an 'acid test' when they lock horns with the hardy boys from Mount Lavinia-Science College.
Royal will be led by their play maker and fly half Arshad Jamaldeen. He will have the services of 10 senior players in their ranks. Some notable players are Wasim Bawa, Iroshan De Alwis, Lahiru Pavithra, Rimzi Jamaldeen and Damian Ratwatte. They will be looked after by young Bilal Yusuf as their Head Coach. Royal will kick off the season with the game against the new kids on the block D S Senanayake College.
Kingswood College who came up to the finals at the Inter schools sevens this year will be led by Chamila Abeygunawardena. They will be coached by the former Antonian and one of the senior referees Priyantha Gunaratne. They will start the season with the game against home town rivals St. Anthony's College.
Vidyartha coming in to the top division after some outstanding performances last year will be led by Sri Lanka Youth player Jason Dissanayake. They will have 7 of their seniors and will be the 'Dark Horses' in the tournament. They are sure to knock out a few top schools in the "A" division. They will be looked after by the well read and up-to-date man in the game Anil Jayasinghe.
St. Anthony's College Katugastota is being skippered by Panduka Angammana and will have five of their senior players in the side. The team is being coached by one of their old boys who represented the Antonians in 1986 - Sanjay Amunugama.
St. Peter's College will have their top national sevens skipper Danushka Ranjan to lead with some top names in the list. The Bambalapitiya School will miss the service of Sanath Martis who did an outstanding service for the school over a decade. He will be away with the national team in the Philippines as the country's Assistant Coach. Collin Dinesh will be in charge of the Bambalapitiya School.
Science College who made lot of surprises last year will be led by rock hard Kanchana Perera and coached by Jayathilake. Isipathana will be coached by one of their old boy and crack third row forward Shamly Nawas.
D S Senanayake College coming in to top division for the very first time will be led by Hooker S Viswajith. They will have 5 seniors in their team. They will have an expert in refereeing and coaching of A C Tenekoon to guide them this season. Tenekoon was earlier had coaching stints with Kingswood, Ananda and Isipathana.
Matches for the first week: Royal vs D S Senanayake; Isipathana vs Vidyartha; Trinity vs Science; St. Peter's vs St. Josephs; St. Anthony's vs Kingswood.