While Thurstan captain Sajeewa Salgado has further expanded his lead by a massive 7651 votes in the Bata-the Sunday Times Most Popular Schoolboy Cricketer of the Year 2012. A drastic change took place in the following top slots. Maris Stella skipper Angelo Jayasinghe who was consistently holding the second place in the All-Island category was toppled by Shiran Anuruddhika of De Mazenod Kandana. The Mazenodian deputy skipper received the most number of votes during last week in the main category which was 1472 as his tally went up to 6442 this week. Jayasinghe received 571 votes in the concluded week while moving down a place to No.3.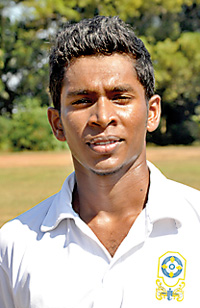 Shiran Anuruddhika
Anuruddhika, a fine all-rounder is a fourth year player from De Mazenod. Last season Anuruddhika tallied over 700 runs while turning out to be a useful top order player. The right-handed top order batsman was among runs this season as well. He is an off-spinner and is a handy bowler who has the ability to break vital partnerships at much needed times. His contributions during this season partly helped De Mazenod in maintaining their unbeaten record this year. This year he scored over 600 runs and is the only centurion in the team. While hitting three half centuries, his solitary ton came against Kalutara Vidyalaya.
Following Anuruddhika in the competition, Royal Panadura team mates Charith Ruchiranga and Madhawa Fernando remains respectively at the fourth and fifth positions. Ruchiranga received 83 votes during last week while Fernando's tally remains unchanged from last week. Zahirian Lakshan Edirisinghe, Kavindu Ashan of Royal Panadura, Josephian Dishan Dissanayake, Peterite Thanusha Jayawardane, and Thomian skipper Sachin Peiris hang about at their respective positions as last week.
The leadership of Sasindu Perera, the St. John's Panadura skipper is at stake in the Emerging Schools category. Tharindu Gamage of President's Kotte is successfully making the trail and is just 48 votes away from gaining the leadership. From last week Perera received 194 votes while 179 votes has put Guruge at a striking position as weeks pass by. Rest of the competitors stay unmoved from last week. Lakshan Kodagoda of Gateway who leads the International Schools category has topped the 28,000 mark which is evidently the highest from any category this year. His progress in the competition has been running at a constant pace while his closest competitor Nishan Perera of Lyceum Nugegoda further slowed down last week. To make the competition more interesting readers can send in as many coupons as they wish until May 23.
All-Island Schools
Player Team
Sajeewa Salgado Thurstan College 14093
Shiran Anuruddhika De Mazenod College 6442
Angelo Jayasinghe Maris Stella College 5701
Charith Ruchiranga Royal College Panadura 3257
Madhawa Fernando Royal College Panadura 2651
Lakshan Edirisinghe Zahira College 849
Kavindu Ashan Royal College Panadura 619
Dishan Dissanayake St. Joseph's College 389
Thanusha Jayawardane St. Peter's College 356
Sachin Peiris S. Thomas' College 276
Jason Perera St. Benedict's College 126
Shehan Dilasri Maris Stella College 116
Emerging Schools
Sasindu Perera St. John's College Panadura 1395
Tharindu Guruge Presidents College Kotte 1348
Shenal Deelaka Piliyandala Central 823
Mohamed Shilmy St. Anthony's Panadura 329
Aruna Dharmasena Sri Sumangala Panadura 13
Samitha Ratnasuriya Seethawaka National School 12
Anas Mohamed Azhar College Kandy 3
International Schools
Lakshan Kodagoda Gateway International 28019
Nishan Perera Lyceum Nugegoda 20250
Shehan Hettiarachchi Royal Institute 4173
Amjad Ifthikar Leighton Park 4090
Readers' prizes go to: 1. K.S. Rangana, 18/9, Unnaruwa, Minuwangoda. 2. K. Rajaguru, 28, Ranawana Road, Katugastota, Kandy. 3. R.R. Bopegamage, 362/A/2/1, Hamugehena, Udupila North, Delgoda. 4. Ramani Padmalatha, 28/5, Sriya Mawatha, Atambagoda, Panadura.