England romped home by eight wickets to level the two-match Test series against Sri Lanka 1-1 at the P. Sara Oval yesterday. Chasing 94 runs for victory, England achieved their target losing just two wickets to gain back their winning form as the world's top Test playing team after four straight defeats – three against Pakistan in the Middle-East and one in Galle. Thus England also retained the number one position in the ICC Test rankings.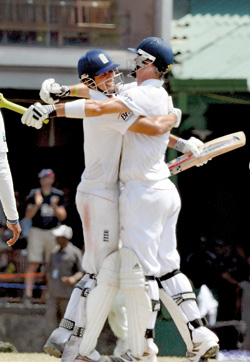 English batsmen Alastier Cook and Kevin Piertersen hug each other after beating Sri Lanka by eight wickets and also winning their first winter test this season. (Pix Ranjith Perera)
Predictions of an outcome were proven right at the P. Sara Oval as Sri Lanka missed a golden opportunity of a series whitewash while in contrast England played to their potential to share the 'Just Retirement Test Trophy with the home team. The English supporters who had a dull day on Friday sans beer being that it was a Poya holiday had much to celebrate despite early jitters when their team lost its second wicket during the run chase, leading to whispers of 'Abu Dhabi' among the Barmy Army troopers. Sri Lanka skipper Mahela Jayawardene was adjudged the Man-of-the-Series while Kevin Pietersen won the Man-of-the Match award.
During their run chase England lost the wicket of Skipper Andrew Strauss for a duck, off the bowling of off-spinner TM Dilshan who took the new ball for Sri Lanka. Strauss attempted to defend a ball that drifted from round the wicket and he was totally beaten as Sri Lanka started their defense on a positive note. The victors lost their second wicket at 31 when Jonathan Trott was trapped leg before off the bowling of left-armer Rangana Herath. But opener Alistair Cook and Man-of-the-Match Pietersen steered England towards the winning post inside the 20th over. Cook who survived a decision referral off the bowling of Herath was unbeaten on 49 off 69 balls with six boundaries while Pietersen clobbered an unbeaten 42 off 28 balls with four boundaries and two sixes.
Sri Lanka resuming from their overnight score of 218 for six, were reeled in for 278 shortly before lunch, leaving England a moderate target of 94 to chase off 62 overs. Off-spinner Graeme Swann, with six wickets, was the architect of England's win. Skipper Mahela Jayawardene and Angelo Mathews were resilient while the rest of the Sri Lankan batsmen were careless even in defense. Jayawardene played an anchor role in keeping Sri Lanka's hopes high after resuming from his overnight score of 55 not out, but the elegant right-hander just managed to add nine runs to his tally before falling victim to Swann. Jayawardene was left helpless against a ripper that made him play the ball into the safe hands of Alistair Cook. He made 64 off 191 balls inclusive of four boundaries and was the first wicket of the fifth and final day.
Sri Lanka had added 20 runs to their overnight score when Jayawardene departed, and Mathews was burdened with more weight on his shoulders in anchoring the innings. While adding more runs to the Sri Lankan second innings total, Mathews was left a mere spectator watching reputed batsman Prasanna Jayawardene and all-rounder Rangana Herath walk back to the pavilion after making two runs each. Sri Lanka slumped further from 218-6 to 251-9 after Mathews shared brief partnerships of four runs and nine runs respectively with wicketkeeper Jayawardene and Herath.
But he found a more positive partner in fast-bowler Suranga Lakmal who batted more sensibly than the top order. Before Mathews was Sri Lanka's last batsman to be dismissed, getting out for 46 runs in a similar fashion to his skipper, the hosts' last pair had added 27 runs to their total. Mathews faced 98 balls and hit six boundaries before misjudging a slower ball from paceman Steven Finn who eventually put the breaks on the Sri Lankan second innings.
SCOREBOARD
Sri Lanka first innings 275 all out (111.1) (Mahela Jayawardene 105, Angelo Mathews 57, Thilan Samaraweera 54, Graeme Swann 4/75, James Anderson 3/62, Tim Bresnan 2/47)
England first innings 460 all out (152.3) (Kevin Pietersen 151, Alistair Cook 94, Jonathan Trott 64, Andrew Strauss 61, Samit Patel 29, Rangana Herath 6/133, TM Dilshan 2/73)
Sri Lanka second innings (O'night 218-6)
Dhammika Prasad c Bresnan b Finn 34
(Pulled and caught at deep square leg)
L Thirimanne c Strauss b Anderson 11
(Good length, offered a simple shot and edged to slip)
TM Dilshan c Anderson b Swann 35
(The ball hits the ground and goes off towards slips, batsman reviews but upheld)
Kumar Sangakkara c Prior b Swann 21
(Drives, the ball turns and finds a thick edge)
Mahela Jayawardene c Cook b Swann 64
(Pitched outside the off and bounced, the ball hits the glove and caught in the middle)
Thilan Samaraweera b Swann 47
(Pitches on the off, batsman defends but the ball bounces and tips the leg stump)
Suraj Randiv b Swann 00
(Batsman defends but the ball finds the gap and hits the stumps)
Angelo Mathews c Strauss b Finn 46
Prasanna Jayawardene b Swann 02
(Tries to sweep, beats the bat and hits leg stump)
Rangana Herath c Anderson b Patel 02
(Batsman plays with two minds, and edges the ball to first slip)
Suranga Lakmal not out 04
Extras (4b, 6lb, 2w) 12
Total (all out: 118.5) 278
Fall of wickets: 1-23, 2-64, 3-104, 4-125, 5-215, 6-215, 7-238, 8-242, 9-251, 10-278
Bowling: James Anderson 29-6-36-1, Steven Finn 15.5-1-30-2 (1w), Graeme Swann 40-1-106-6, Tim Bresnan 14-5-24-0 (1w), Samit Patel 25-7-54-1, Kevin Pietersen 4-0-18-0
England second innings (Target 94)
Andrew Strauss b Dilshan 00
(Bowled round the wicket, batsman defends, ball misses outside edge and hits off stump)
Alistair Cook not out 49
Jonathan Trott lbw b Herath 05
(Pitches on the stumps, plays a forward defense with bat and pad. Bowler appeals but turned down, but sends upstairs and the decision is revised)
Kevin Pietersen not out 42
Extras (1lb) 01
Total (for 2 wkts: 19.4 overs) 97
Fall of wickets: 1-0, 2-31
Bowling: TM Dilshan 7.4-1-43-1, Rangana Herath 9-0-37-1, Suraj Randiv 3-0-16-0