April means many things to many countries. A season of holidays for Sri Lanka, the beginning of spring in Europe, the near-ending of a harsh winter in Siberia and even hay fever for the unfortunate few in some parts of the world. Yet, in India, April is fast becoming just one thing – the IPL, now that the fifth edition is back in all its colourful, festive and somewhat confusing glory.
Confusing because of a couple of things. The IPL started with eight teams, went to 10 amidst much controversy and is now down to 9. The Kochi team, contributing to a large part of the controversy is well and truly out. The IPL also started with the specific agenda of building team loyalties amongst fans. In India, players enjoying demi-god status carry as much loyalty as the teams themselves. It has not helped that, starting with the re-auctions, followed by the frequent transfers of players between teams, save Chennai and Mumbai, most teams now have a morphed identity that fans are still trying to decipher.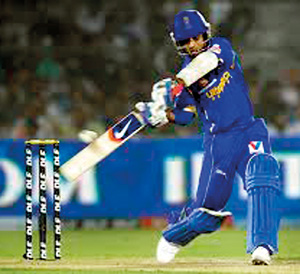 Ajinkya Rahane hits out
That aside, all the big Indian names are there, and some international ones too. No Pakistan yet, unfortunately. The first few days of the edition have already thrown up some questions and the excitement associated with the tournament. Can Chennai make it 3 in a row? Is it going be another Gayle feast? Mumbai, Bangalore and Kolkata can certainly boast of their strength on paper, but can they deliver? Will Michael Clarke, now having joined the Pune Warriors, be the impact player?
That the playing field is getting more even, there can be little doubt. Mumbai came out on top against champions Chennai in the opener but then lost to Pune, the team that finished last in the previous IPL. Delhi got past the much-fancied Kolkata. This can mean only good things for the IPL, with the competition getting tougher, as with any sport from football to Formula 1.
The magic of the IPL in making stars of cricketers also continues. Ajinkya Rahane, a name not heard of much outside the IPL, has already played a blinder in Rajasthan's win over Punjab. Kevin Cooper may have been a "who" in India till yesterday, but is already finding fame, thanks to his bowling and all-round performance against Punjab.
While the eyes are glued to the excitement of T20 and the IPL matches, the mind cannot be faulted for wandering to the fascinating Sri Lanka-England test series, the class on display of Mahela and Trott and the joy and beauty of the truest and most challenging form of cricket – Test match cricket.