Situated strategically between the Colombo Katunayake main road and the tranquil scenic lagoon, Gateway College Negombo has established itself as the premier International School in Negombo offering classes from Play Group to Advance Level. The school celebrated its fifth anniversary with religious ceremonies and a fair.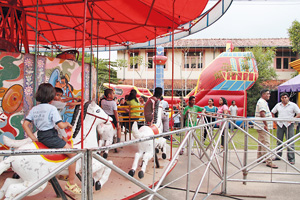 As a multi cultural and a multi religious organisation, the teachers and students of the school organised a Holy mass, Seth pirith, Hindu pooja and Mowlood. It was pleasing to see the participation of the entire school in the solemn ceremonies.
The completion of five years was also celebrated by the school with its annual Anniversary Fair held at the College premises. The fair was organised entirely by the students and teachers from Foundation to Secondary school and was attended by over 2000 guests. It provided a great opportunity to the entire Gateway community as well as their families to celebrate the anniversary in a splendid, festive manner.
The students entertained the large gathering with a Talent Show which was truly a masterpiece. Many talented singers, student bands and student dance troupes put together an outstanding display of song and dance. The variety of stalls, managed by every class, included delectable food, clothes, jewellery, plants, face paint, nail spa, toys, books, etc. The children had great fun in the merry go round, the game stalls and with the horse rides. It was wonderful to see both, young and old enjoying themselves together immensely.
The school's present student population exceeds 600. The academic staff, consisting of 70 well qualified experienced teachers and the energetic Head Mistress, have been largely responsible for the tremendous growth of this institution. While the academic programme has been its priority, Gateway has provided many opportunities to its students to be involved in the wider community. Sports, drama, art, music, community service, field trips, Model United Nations, creative writing etc., have assisted students to become balanced individuals. The school inculcates leadership among students by making them responsible and accountable in various activities.
The school has a strong infrastructure to meet their academic demands - modern laboratories, well equipped libraries, ICT suites and multimedia facilities. These facilities assist the teachers to deliver their lessons interactively. The small but lush play grounds provide the ideal setting for an active physical education programme.
In fulfilling Gateway's assurance of providing education from Foundation to Graduation, a branch of the Graduate School was opened recently in Negombo. Through the Graduate School, students will either be able to complete a British Degree in Sri Lanka or transfer to prestigious international universities in UK, USA, New Zealand and Australia.
Gateway Negombo is the only International School in Negombo that enjoys teaching centre status from awarding bodies such as Edexcel and NCC Education UK. Thus, for the students in Negombo and its suburbs, Gateway College Negombo provides a great opportunity to obtain affordable quality education from Play Group to Degree level.