City & Guilds is the UK's leading provider of vocational qualifications offering over 500 awards across a wide range of industries, and progressing from entry level to the highest level of professional achievement. With over 8500 centres in 100 countries, City and Guilds is recognized by employers worldwide for providing qualifications that offer proof for the skills they need to get the job done.
Being supportive and satisfied with the principle of equal opportunities, City & Guilds collaborated with the LCBT is now providing an opportunity for the young and the youth as well as the business community of Sri Lanka to obtain and enhance their academic and professional qualifications and skills under the shelter of Leeds Campus of Business and Technology.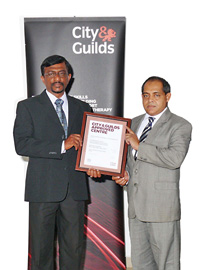 Mr. Mufthy Hashim (R)Regional Manger South Asia–City & Guilds, handing over accreditation certificate to Dr. P.S.W. Jayathissa (L)Group Chairman - Leads Campus of Business & Technology.
Marking a historical milestone in the process of the LCBT's progress, the programmes of City & Guilds were launched on 13th January 2012 at Leeds Campus of Business and Technology, Pitakotte by signing the mutual agreement between City & Guilds and the LCBT with the participation of the chairman of Leeds Group, Dr. P.S.W. Jayatissa, board of directors and the staff of the LCBT and Sri Lankan representatives of City & Guilds in the UK.
As a pioneer service provider of City & Guilds, LCBT is presently conducting the following programmes.
1. Access Certificate in English Language Teaching
2. English for Business Communications Level I ,II and III
3. International ESOL Levels l to Vl
4. International ESOL for Young Learners (preliminary and Basic)
5. Sales and Marketing
Access Certificate in English Language Teaching is offered by City & Guilds in order to produce competent English Language Teachers to bridge the gap of short supply of English language teachers, especially in English medium schools in Sri Lanka.
With the impacts of globalization, business communication has become a vital requirement for smooth functioning of private and public organizations today. English for Business Communications Levels l, ll and lll cater to enhance effective oral and written communication skills for line, middle and top management officers and executives respectively
ESOL for Young Learners is an English course caters for the learners aged 08-13 to uplift the standard of English knowledge and skills of listening, reading and writing whereas international ESOL is for the youth and adults who need sufficient knowledge of English to meet the requirements of academic and professional fields.
Leeds Campus of Business and Technology (LCBT) situated at 342 Kotte Road, Pitakotte is an extension towards higher education of Leeds group of International Schools located at Panadura, Horana, Galle, Matara, Payagala, Ambalangoda, Pitakotte and Mathugama. LCBT functions as an exclusive course provider and facilitator of the above City & Guild Programmes. Collaboration of City & Guilds with LCBT will lead the young generation of Sri Lanka to enhance the skills, professionalism and academic excellence in respective fields.
In order to achieve the expected mission, the location of the LCBT has been chosen within easy and quick access from any direction. Almost all modern facilities such as air conditioned lecture rooms, multimedia facilities, modern equipped computer laboratories, language laboratories and well experienced panel of resource persons consisting both UK and Sri Lankan lecturers are available for quality education.
With flexibility of time tables, affordable and easy payment scheme, students are encouraged to continue their studies more conveniently, comfortably and free from stress.
Other than the above City & Guilds programmes, LCBT is offering Diploma in Business English and Effective Communication, Diploma in Professional English and Spoken English aiming at school leavers, under graduates, employees of public and private sectors and those expecting to do a job.
LCBT is the only registered course provider in Sri Lanka to offer Higher National Diploma in Sport Science.
The Department of Teacher Training of LCBT is currently offering the following NVQ Teacher Training Diplomas
Diploma in Primary Teaching
Diploma in Teaching English Language and Literature

Diploma in Nursery Teaching
Diploma in Teaching Science and Mathematics
Classes for Access Certificate in English Language Teaching affiliated with City & Guilds -For registrations & clarifications please contact 0774781930
Thus, the service rendered by Leeds Campus of Business &Technology is highly competitive and appropriate to meet the requirements of the challenging world today.