Signifying a landmark collaboration, the Vocational Training Authority under the guidance of Minister Mr Dulles Alahapperuma, the Minister of Youth Affairs and Skills Development is tying up with World Skills International, to participate in the World Skills Competition that provides a platform for comparison of world class competency standards in the industrial trades.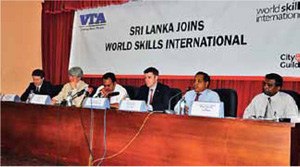 World Skills International is a unique, not for profit, international membership organisation with a mission to raise the status and standards of vocational skills and training worldwide. Its principal activity is organising the World Skills Competition in a Member country every two years. City and Guilds is supports the government of Sri Lanka and World Skills international towards this tie-up that is intended to develop the skill competencies in the vocational field in Sri Lanka.
Improving the relevance and quality of vocational education and training, supporting and preparing youth for local and international labour markets and reducing youth unemployment are key focus areas in Sri Lanka. The restoration of peace in Sri Lanka after 25 years of civil strife has given rise to rapid development in a free market economy and provides many challenges to modernize vocational education that imparts trade skills in-demand, as well as to change the attitude of the public towards vocational education itself. Instilling pride in trade skills is a key element that needs to be enhanced to ensure that young people are attracted to this vital sector. This is a big challenge for a small country which will have exponential growth especially in Construction, Hospitality and Engineering fields in the coming years.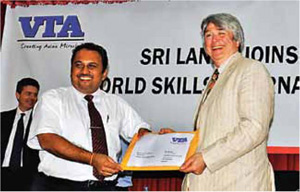 The President of the World Skills Mr. Simon Bartley together with the Director General of City & Guilds Mr. Chris Jones are in Sri Lanka to hand over the membership document and to discuss the way forward for the partnership. With this partnership, the participating agency of the government - the Vocational Training Authority of Sri Lanka (VTA) will organise a 'skills' championship in Sri Lanka and the winner will have an opportunity to represent Sri Lanka at WorldSkills summit to be held in the future. Mr Dhammika Hewapathirana, Chairman-CEO of the VTA will officially accept the membership document on behalf of the VTA.
World Skills International currently has Members in 56 countries/regions. Participation in the skills competitions organized by WorldSkills International makes it possible to evaluate the competitiveness of the current vocational educational system in Sri Lanka on a global scale and provides impulses for improving the curriculum and delivery methods of vocational training. Successful participation of young Sri Lankans in WorldSkills competitions will make vocational training more attractive and increases the motivation of VTA students to work harder at learning their chosen profession. Education policy makers too would get a realistic impression of the quality of training and ideas for improvement whilst sector experts can learn about global development trends in their sectors.