The Dharmapala College Pannipitiya cricket team is going through a tough period. Their cricket team for the ongoing season comprise of youngsters with no exposure at all in first XI cricket. Under a new coach, the new look Dharmapala cricket team is striving to make their presence felt among other leading and competitive cricket playing schools in the island.
Yasith Lakshitha (Captain)

Malith Madushan
(Vice Captain)
"All members are newcomers including the skipper, Yasith Lakishitha. From the lot, Lakshitha has played about four first XI matches last season. This makes him the most experienced in the team. Others rarely got a chance to play last year. However considering the start, we are doing quite well at present as a team," said the new coach of Dharmapal Susila Gunawardena.
As other teams hunt for bigger targets, Dharmapala has been left out with the gigantic task of saving their face in the top division. With a depleted team, sans a senior player to guide them their main target this season is saving games without defeats. But having played 10 matches so far from their season tally of 17, the Dharmapala lads have failed to fulfil their mission. They lost against St. Peter's, Ananda, Zahira and Thurstan while managing to draw the rest of their encounters. Dharmapala's fresh guns except at an occasion have failed to bowl out their opponents.
"Our players are talented. Lack of exposure is the only setback in our team. We managed to bowl out Isipathana in a drawn game and it was the only occasion we were able to record first innings points in this season. At other matches too the boys faired well but their inexperience as a team was uncovered. We will have a good team in a year of two. We will have to work hard to improve our standards," added Gunawardena.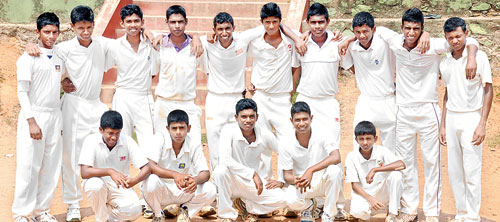 Dharmapala Pannipitiya cricket squad. (Pix by Amila Prabodha)
Yasith Lakshitha leads Dharmapala this year while Malith Madushan is the vice captain. The team has an array of freshers with a permanent batting line up in the top and middle order. Ashan Jayasanka and Tharaka Hondamunige are the regular opening pair for Dharmapala and the others in the batting order are, Madushan, Lakshitha, Vimukthi Radella and Kushan Jayalath. Despite their struggle in the on going tournament, two of the Dharmapala batsmen - opener Jayasanka and skipper Lakshitha - are in good form with the bat. Jayasanka has scored over 600 runs while Lashitha is fast reaching the 500-run mark during the season. Dharmapala has two fast bowlers in Chameen Himalka and Asanka Sameera while off-spinners Himasha Liyanage and Tharindu Dhanushka are their front liners.
The side has several part-time spinners but their bowling department is however average. With such a background the Dharmapala cricketers are determined to pull up their socks and work on the reforms.
"We know it will be a tough task ahead for us. Our main concern is to make sure of our survival in the top division this season. We can definitely get back to the track in the future. We are making use of this season a learning process. The idea is to groom our inexperienced cricketers for future years," stressed Gunawardena.