Rugby is a strange, robust game. Several who have not played for their schools have ended up playing for the national team. Y.C. Chang for instance is one such person. In the wake of some articles featuring rugby greats of the past Lanil Tennekoon's name loomed large as ever.
Lanil is now planting in the south managing a proprietary owned 'Organic Tea plantation'. Lanil without playing school rugby turned out to be a great player for Up Country, Havelocks Sports Club - the then pace setters in local rugby and CH and FC who apparently won the Club champions with a huge contribution coming from Lanil playing as a flanker. All this culminated in the lanky Trinitian wearing the national jersey. This is his tale.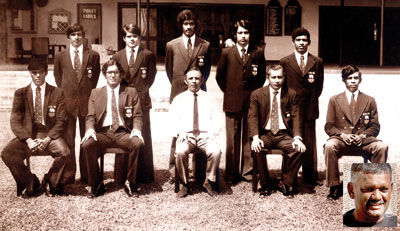 The 1976 Sri Lanka Sevens rugby team - (Seated from left): Maiya Gunasekera, Indrajith Coomaraswamy (Capt),S.B. Pilapitiya (President SLRFU), Kavan Rambukwella, Mohan Balasuriya. (Standing from left: M.P. Gunadasa, Ronald Rodrigo, Lanil Tennekoon, Jeffrey de Jong and T.A. Omerdeen. (Inset Lanil Tennekoon as he is now)
"Whilst at TCK, I captained the Lemuel team. After 13 years of being a boarder I never represented college at rugby. I took to planting at 18 years and in 1970 was posted to a Tea Estate in Hatton
I practically walked into the Dickoya team, when all the upcountry clubs were playing in the 'A' Division Rugby tournament. Dickoya MCC, was captained by Malin Goonatilake (Old Trinitian), and had players such as Aubrey Patternott, Dushy Perera, Bede Johnpillai, Aleister Mackenzie, Bob Smith, Ronnie Almeida, G.D.V. (Donga) Perera, Maurice Aldons, to name a few. It was then that the low country clubs were given a run for their money when they came to Darawella. Player's who represented Dimbulla and Uva at the time I played for Dickoya were, Roger Da Silva, Mike de Alwis, Jeevaka Atapattu, Ken Murray, Keith Paul, Larry Shockman, Sunil Jayakody, Owen Motthaw, (All from Dimbulla), Brian and Cedrick Munaweera, Gamini Samson, Gamini Udugama, Gamini Goonasekera, (From Uva).
"In 1971 I left planting and joined the mercantile sector in Colombo and represented CH & FC in 1971, 1972 and 1973. The captains of those teams were Darrell Wimalaratne, Y.C Chang and Brian Baptist. The 1972 CH & FC side remained unbeaten in the league tournament, and went to the final of the knock-out championship and lost to Police in the final 12-09, (All nine points were scored by me by way of penalty kicks). The CH player's who featured in the final were, Ron Huchinson, Kumar Bastianpillai, Rizvy Nizar, Brian Baptist, Noel Brohier, myself as a flanker, Upali Withanage, Lorensz Periera, Horace Perera, Rodney Patternot, Micheal Hawke and Tony Amith.
"In 1974 I moved to Kandy and represented Kandy S C, captained by Jeremy Pereira. Other players in the Kandy side were Sunil Moonasinghe, D H Rajaguru, Kuthoos, 'Bola' Gooneratne, 'Jadi' Dissanaike, Ariyaratne, Nimal Malagamuwa, Chang Fa, 'Kalu' Perera, Sunil Serasinghe, Gavin Stevens, Izwan Omar and George Jayasena.
"In 1974 I was selected to represent Sri Lanka at the 4th Rugby Asiad in Colombo for the first time. SL came into the finals and lost to Japan, all other participating countries at this Asiad had their full national sides and Japan came to SL direct from their England tour having beaten the Combined Oxford/Cambridge University team (which had two All England player's in their ranks). I was one of the few players' who took part in all the games at the Asiad. The team was captained by that hard working flanker Indrajith Coomaraswamy. The side was coached by Major Berty Dias.
"From 1975 to 1978 I represented Havelocks. For three years running Havelocks were the League Champions and in 1978 we were the Triple Champions. The captains were Shafi Jainudeen, Thajone Savanghan, Anton Benedict and Jeffrey de Jong; I played with a host of good rugby players in those years. Some who spring into my mind are PL Moonasinghe, Michael Jayasekera, Royden de Silva, Angelo Wickramaratne, S Selvraja, Gavin Stevens, Stefan Da Silva, Marco de Silva, David Nicolle, Chula Warusivitarne , Hazari Hameed, Hanzil Samad (a brilliant scrumhalf those days), Jeyer Rodriguesz, Len de Silva, Morseth, Errol Thabinayagam, Frank Hubert and Shane Pinder.
"In 1978 I re-joined planting and went on to represent Kandy, Uva, and Dimbulla. I had the rare privilege of continuing to represent the country even whilst planting in 1979 and 1980 the year that I captained Sri Lanka at the Hong Kong Sevens and the Asiad in Taiwan.
"I also captained Upcountry in the Capper Cup games against the Low Country and against most of the visiting foreign rugby sides. An unforgettable rugby moment is when I was selected to represent the "International Rugby XV' captained by Wallabies skipper Marke Loane in 1978 against Hong Kong. Our own Michael Jayasekera was the other player from Sri Lanka. I had the privilege of scoring the final try in this match. The international XV was selected from the nations that played at the HK sevens that year.
"In the 80's I was invited to captain the 'Trinity College old Boys' team against the Old Royalists captained by Dr. Maiya Gunasekera at the opening of the 'Royal College Sports Complex' at Reid Avenue.
"I was also invited to captain the TCK old boys team against the 'Old Isipathanians' captained by Nalin de Silva at a 'Charity Match'. That was the golden era in Lankan rugby.