The third round matches of the Premier Tier 'A' and 'B' inter-club cricket tournament is scheduled to be held over three days from today at venues around the metropolis. There are ten matches down for decision in both the categories with five from each. The pick of the five matches in the top group is no doubt the match between Ragama CC and Chilaw Marians slotted to be played at the Colts ground.
The other four matches due to be played are Bloomfield vs NCC at Reid Avenue, Moors vs SSC at Braybrooke Place, Tamil Union vs Colts at P. Sara Stadium and Lankan CC vs Badureliya CC at De Zoysa Stadium in Moratuwa.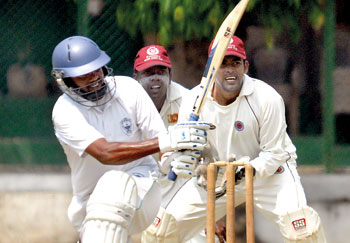 Marians skipper Janaka Gunaratne has a top score of 180. (Pic by Amila Prabodha)
The five scheduled matches in the lower group are Kurunegala YCC vs Air Force at Kurunegala, BRC vs Saracens SC at BRC, Army vs Panadura at Panagoda, Navy vs Police at Welisara and Sri Lanka Ports Authority vs CCC at Sooriyawewa.
It will be an acid test for Ragama CC who is leading in the points table as they will be meeting the confident Chilaw Marians who in their two matches have posted formidable scores. Chilaw Marians in the first match piled up a score of 441 against Moors and then followed it up making a massive 510 against Bloomfield. In contrast Ragama CC had a slow start against Lankan CC in the first match but made amends in the match against Moors.
Ragama CC led by Kaushalya Weeraratne has one outright win under their belt against Lankan CC, who are new entrants to the top league and on the other hand Chilaw Marians led by Janaka Gunaratne have two first inning wins and are lying fourth in the points table.
But the scale is in favour of the Marians whose batsmen are in full form. Skipper Janaka who himself has a top knock of 180 made against Moors while Harsha Cooray made a 231 in their previous game against Bloomfield.
Chilaw Marians will be missing their regular skipper Mahela Udawatte who is on national duty representing the Sri Lanka 'A' against the England Lions. But they have batsmen who are capable of turning the game in their favour in the likes of Amal Athulathmudali, Malinda Pushpakumara, Umesh Karunaratne and Geeth Kumara.
Ragama CC too posses capable batsmen in the likes of Udara Jayasundara, Rumesh Buddika, veteran Indika de Saram, Ian Daniel and Sachith Pathirana, the only centurion of the side so far, but they will be more sharper if they are to make any impression with a formidable side like the Marians.
Three other matches of interest are the games at Reid Avenue, Braybrooke Place and Sara Stadium. Bloomfield and NCC will be looking forward for their first win and the two teams have not played to the potential.
They have surrendered first inning leads to their opponents in the two matches they have played and are lying eighth and last respectively in the points table. For NCC apart from Angelo Perera the other batsmen have failed to live up to expectations while Bloomfield too is in the same category.
The match at Braybrooke Place should be a close tussle as Moors have been performing more than what is expected from them. Even though they have not been successful they have showed that they are a side to be taken note of.
SSC will be coming into the game with confidence after their nerve wracking win over Lankan CC last week. They will no doubt be looking forward to maintain the winning trend but even then they cannot take Moors lightly.
It has been mixed fortunes for Tamil Union and Colts who will battle each other. Tamil Union has an outright win over Badureliya CC and Colts who missed out on a win against NCC last week will be hoping to go one step further.
Badureliya CC is favoured to get the better of Lankan CC who are finding it tough to come into terms in the top league. Badureliya CC could boast of having dominated the game against NCC while Lankan CC will have to do something special if they are hoping to see the winning post.
In the Tier 'B' category, Army the only side to record two outright wins from the two matches that they have play host Panadura SC at Panagoda and will be looking forward to maintain the winning trend.
Last week winners Air Force, Navy and CCC are favoured to come out on top against Kurunegala YCC who are yet to make any impression, Police and Sri Lanka Ports Authority while the match between BRC and Saracens SC should be a close tussle.