Former Deputy Inspector General of Police P. Mahendran passed away on February 2 in Sydney after a brief illness. He was a giant of a man with a massive physique who excelled in athletics, boxing and rugby football. He had the unique distinction of participating in the National Athletics Championship and winning the Putt Shot championship in the afternoon and in the same evening he represented the champion CR&FC team in a rugby Clifford Cup match and went on to win the National Heavy Weight boxing championship later in the evening, all in one day. Thus he earned the title 'Brute'.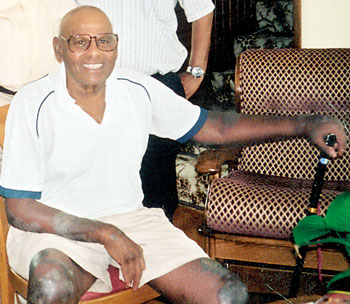 Brute Mahendran.
Though in appearance he appeared to be huge, he was very soft hearted and an amiable person. He joined the Police as an Assistant Superintendent of Police in 1958 after obtaining a Degree with Honours in Chemistry, having had his primary education at Trinity College and Royal College excelling in studies and sports. The same year I too joined the Police as a Sub Inspector. and during our Police training days at the Katukurunda Training School we became good friends and traveled to Colombo every week to represent the Police at rugby in the car of Superintendent of Police Fred Brohier who was the Assistant Director of Training and Coach of the Police rugby team. We played together for the Police rugby team from 1958 to 1963 in the illustrious company of Mike Schockman, Quintus Jayasinghe, SS Bambaradeniya, Franklyn Jacob, Rodney Aluvihare, Tony Mahath all from Trinity College, James Senaratne, Sumith Silva and Raja Pothuhera from Royal College and from St. Peter's College, Letcho Ephreaums, Terry Williams and Muni Gomes.
"Brute" captained the Police rugby team in 1962 and I captained the team in 1963 after which he hung up his rugby boots, even though he continued to contribute to rugby as a Referee and coach of the Police team. He also played cricket in the Police Inter Division Tournament
He always sported a sense of humour on and off the field with his wit and wisdom. In 1961 the Police were permitted to play against the leading Clubs and in the match against the star studded CH&FC which then comprised of all foreigners in the likes of Peter Sawdy, John Banks, John Burrows, Mike James, Mike Birch, Keith Anderson and Neville Leafe to name a few who were huge and some who had played international games, The police team played ferociously and drew the match 3 - 3 to shock the local rugby world. In this match " Brute" played a brilliant game tackling the burly Britishers for them to shout " ET TU BRUTE " for which Mahendran will shout " LONG LIVE CEASER " to the amusement of the spectators and continued with his robust game.
Before joining the Police he was a regular member of the champion CR&FC rugby team from 1955 to 1958 which had some of the brilliant local rugby players such as sprint champion Summa Navaratnam, Trevor Anghie, Ana Gunawardane, Mahes Rodrigo, Ago Paiva, A.K Doray, Brian Vantwest, Devaka Rodrigo, Eardley Mc Heyzer, H Numan, Ashy Cader,Geof Weiman, R Edwards, SS Bambaradeniya, John Weiman, Kavan Rambukwella, Malcolm Wright, Raja Williams,R.C Pathmanathan, Norman Gunawardane and "Puggy' Gunaratne.
Brute was saddened by the turmoil that was taking place in the country during the eighties and found it too much to bear and decided to call off his Police career prematurely and migrated to Austalia with his wife Dr Lalitha, daughters Vishanthr and Rathy and son Neelan. There too he was gainfully employed in the Motor Traffic Department till recently. I visited him in Sydney recently with my wife and found him in a happy mood as usual even though his health was not as vibrant as
Before. He leaves behind his loving wife and three adoring children His funeral took place in Sydney yesterday.'MAY HE ATTAIN MOKSHAM.'