The newly elected officials of Sri Lanka Schools Rugby Football Association (SLSRFA) confirmed the schools rugby calendar for the year 2012. Unlike during the past seasons, schools have been well informed of the promotion and relegation criteria and according to the reappointed secretary of SLSRFA, Susantha Mendis. All rugby playing schools in the top division have expressed their support in running a smooth tournament.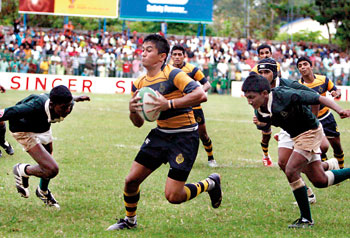 All eyes will be on defending league champions, Royal College, a team everyone would like to beat this season. (File pic)
"Except for a team or two, many have conveyed their satisfaction over the fair conduct of the SLSRFA officials. So far we have had no objections and maximum support from the teams of groups A and B but there are couple of teams who are not pleased in the group C about their position in the Division I. But it must be noted again that as we stated last season, the final standings are subjected to the performances of each and respective team.
We have not favoured or ill-treated any team. All teams have been treated fairly and the final winner should be the sport, not any group, faction or team," Mendis told the Sunday Times.
The peak of the schools rugby season will reach from April 17 when the Under-20 Singer League kicks off. The executive committee of SLSRFA has already finalised the tournament fixtures with the respective teams of the Division I teams which includes 30 teams. Resulting on their performances from last season, the teams have been categorised into the three groups. Ten teams will play each other in the three respective groups.
Defending champions, Royal College Colombo will have a tough time this year against the top teams which are Isipathana, Trinity, St. Peter's, Kingswood and St. Anthony's who finished one-after-another in the league last year. The bottom seeded teams St. Joseph's and Science will be joined by Vidyartha and D.S. Senanayake who earned promotions from last year.
Dharmaraja, Wesley, Thurstan and S. Thomas' were relegated to the Group B after their performances in last year's league. The group also has Mahanama, C.W.W. Kannangara, St. Sylvester's and Lumbini while Nalanda and Carey will be the newcomers to join in. Ananda, Prince of Wales', Zahira and Royal Panadura were demoted from last year and they will play along with St. John's Nugegoda, St. Anne's Kurunegala, Maliyadeva and St. Benedict's in the Group C. Dharmapala Pannipitiya and St. Thomas' Matale are the two teams that were promoted from the Division II.
The schools rugby season will kick off on March 3 with the two-day Under-20 Division I, 7-a-side tournament in Colombo. The venue however has not yet been finalised. This will follow with the Under-20 Division II, 7-a-side tournament scheduled for March 17 and 18 in Galle. In addition to a dozen of tournaments conducted annually, the SLSRFA will introduce an Under-16, Division I 15-a-side league tournament. The tournament has been scheduled from June 25 to July 28 but the SLSRFA are yet to finalise a sponsor for the competition.
"All our tournaments have been finalised with sponsorships. But there are three tournaments to be finalised. This season, we have had very good response from the corporate sector who were willing to come forward as sponsors. But many of them target only a few tournaments that are popular in the country. It means the SLSRFA has done its part last season to rectify the past misdeeds. Our aim is to smoothly run all the tournaments and make every team and its stakeholders satisfy, so all will be able to witness healthy competitions right throughout the year," Mendis added.
Meanwhile Ranjith Chandrasekara, the principal of Kingswood College, was re-elected uncontested as president of SLSRFA for a term of two more years. The 20th Annual General Meeting of the schools rugby governing body was held at the Nalanda College, Colombo Auditorium on January 28. In addition Mendis secured his post for another tenure while H. Sarathchandra Silva was elected as deputy president. Jagath Semasinghe was appointed as assistant secretary while Prasantha Ranaweera was appointed as assistant treasurer. N. L. Wettewa and Gamini Sarathchandra were elected treasurer and tournament secretary respectively.
Tournaments for 2012
March 3-4: Under-20, Div I, 7s in Colombo
March 17-18: Under-20, Div II, 7s in Galle
April 17-June 25: Under-20, Singer League
June 25-July 28: Under-16, Div I, 15-a-side league
July 7-8: Under-18, Div II, 10-a-side in Badulla
August 4-5: Under-18, Div I, 10-a-side in Colombo
August 11-12: Under-14, Div I, 10-a-side in Colombo
August 25-26: Under-16, Div I, 12-a-side in Kandy
Sept 8-9: Under-14, Div II, 10-a-side in Talduwa
Sept 15-16: Under-16, Div II, 12-a-side in Kurunegala
Sept 25-Oct 13: Under-20 President, Premier and Chairman's Trophy knockouts
Oct 20-21: Under-12, 10-a-side in Colombo
Oct 27-28: Girls tournament (Under-14, 16, 18, 20) in Talduwa