Gateway College Kandy, had a very special day celebrating three special occasions; the completion of 15 years of Gateway since its inception, its Crystal Anniversary, the inauguration of its brand new Auditorium, and its maiden Choir Festival. The 21st January, will be remembered as a red letter day in the history of Gateway College Kandy.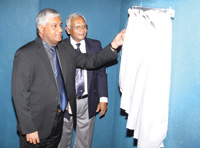 Guests of Honour Professor Ashley Halpe and Mrs. Bridget Halpe along with Mr. Tiran Alles and Mrs. Lydia Alles
On this memorable occasion, the Chief Guests were the Hon. Tiran Alles M.P., founder-Director of Gateway, and Mrs Lydia Alles. The Guests of Honour were Kalakeerthi Professor Ashley Halpe, Professor Emeritus of English, University of Peradeniya, and Mrs Bridget Halpe, who in her own right is an iconic figure in the field of music as a pianist, a music teacher and a choir mistress.
With state of the art technology that supports good acoustics and lighting the auditorium of Gateway College Kandy will benefit students, not only of Gateway College Kandy, but also, of other schools in the area.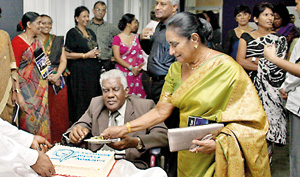 Mr. Ralph Alles and Mrs. Rohini Alles – the Founders of Gateway
The melodious voices of eight prestigious school choirs provided an enjoyable evening to all present. The choirs of Good Shepherd Convent Kandy, St Anthony's College Kandy, Girls' High School Kandy, Trinity College Kandy, Hillwood College Kandy, Gateway College Colombo, Gateway College Negombo and of course the three choirs of the host school – Gateway College Kandy - Foundation, Primary and the Secondary vied with each other in the friendliest manner.
The grand auditorium in Kandy marks another significant gift to the students of Kandy by the Chairman of Gateway, Mr R.I.T.Alles and his son Dr Harsha Alles who sees to it that his father's dreams come true. Chief Guest Hon. Tiran Alles, MP FounderDirectorofGateway,opening the auditorium along with Headmaster Mr. Asoka Herath

The state-of-the-art new Auditorium