Want to be a part of an exciting, fast-paced, and internationally renowned sporting event? Then we want you to join us and be a part of the Ironman Sri Lanka volunteer team!
What is Ironman Sri Lanka, you ask? On 19th February, in Colombo with Galle Face Green featured as the event hub, there will be two races: Ironman 70.3 and 5i50. Each race is a triathlon consisting of three disciplines: open water swimming, road cycling, and running. The 70.3 race, also known as the Half-Ironman, involves a 1.9km sea swim, 90km bike ride, and 21km run adding up to 70.3 miles once the course is completed. The 5i50 is an Olympic distance triathlon involving a 1.5km sea swim, 40km bike ride, and a 10km run adding up to 51.5km at the finish line. By the time the event finishes, some of these athletes will have been continuously exercising for close to 8 hours!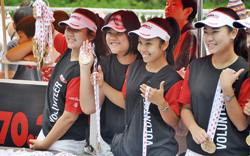 So what roles do volunteers have in this amazing race of human strength, endurance, and willpower? As an integral part of this event, volunteers are needed pre-event, on practice day, and on race day. Being a part of this event means you are a part of a journey these athletes have been on for weeks, months, and years to train and get prepared for this event. You are also a part of a global triathlon series which has over 50 events worldwide – all powered by volunteers. In fact, this race will be a qualifying race for the Ironman 70.3 World Championships to be held in Lake Las Vegas, Nevada, USA in September.
We are looking for 500 enthusiastic, energetic, and responsible volunteers to make the first ever Ironman event in South Asia a success. Our greatest need is on race day, 19th February. Additionally, there will be some positions available on the 16th, 17th, and 18thof February.One training session will be held during the week prior to the race which is mandatory for all volunteers to attend. At this session you will learn from some experienced international event and volunteer coordinators and officially become a part of the Ironman Sri Lanka volunteer team. The minimum age for independent volunteers is 16. Any volunteers younger than the age of 16 need to be accompanied by a responsible adult over the age of 18.
All volunteers will receive a volunteer t-shirt, a volunteer medal, and a recognition certificate. On longer shifts, meals will be provided. Community organisations that provide a team with a minimum of 10 volunteers may receive an honorarium.
As a sponsor of Ironman Sri Lanka, the Wijeya Group of newspapers has some bonuses for our volunteers. All volunteers aged 16 – 30 are automatically eligible for membership in the Education Times Youth Group giving them access to benefits such as free tickets for entertainment events sponsored by Wijeya Group, competitions, and concessionary rates for educational programmes. Furthermore, the ET Youth Group provides personal development activities such as free workshops, opportunities to act as promotional officers for activities organized by Wijeya Group, and job opportunities. Above all, being a member of the ET Youth Group is being a part of a fun loving & friendly group of youth.
Lastly, any volunteers interested in participating as an athlete can enter their name in a draw for one of 5 free entries into the 5i50 event, courtesy of the Wijeya Group.
For more information or to sign up, please contact either Denise, Volunteer Coordinator at volunteers@ironmansrilanka.com or Sujith on0773 – 958514 or via email at educationtimesclub@wijeya.lk. We also invite you to explore our website at www.ironmansrilanka.com.