"Go out and make a difference in your community. You don't need endless time and perfect conditions. Do it now. Do it today. Do it for twenty minutes and watch your heart start beating." Barbara Sher
A crowd had gathered outside Asian International School. It was the 21st of January and yet another glorious and satisfying day for the Interactors of AIS who had organized the annual blood donation drive named 'Pulse - Every Drop Matters', chaired by Interactor Nabeel Milhan.
A team of representatives from the Blood Bank had joined in, with the necessary equipment and skills to carry out the donation process. Dr. Nirmali de Silva had also been invited to oversee the blood drive and speak to the donors in order to make sure they were fit enough to donate. One by one, each donor lay down on the gurney with his or her arms outstretched, determined to save a life.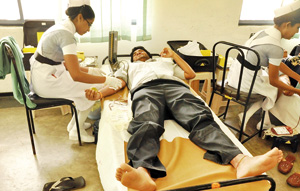 Int. Ishan Jayasekara from District 3220 donating blood
Thanks to those who volunteered, 44 pints of blood were collected. The donors were given refreshments, while they spoke to the Interactors about their experience.
This was the third consecutive year that the Interact Club of Asian International School held a blood drive. It is one of the biggest and most important projects carried out by the Club. After our country saw the end of the war, the number of people willing to donate blood has been declining.
They were, as Dr. Nirmali de Silva explained, under the wrong impression that soldiers and civilians no longer required blood, now that we are free from the horrors of the war. This is a misconception. Every two seconds, someone requires blood. Unfortunately, a vast percentage of the Sri Lankan population also suffers from thalassaemia, where patients can survive only through regular blood transfusions.
Inspired by this knowledge and information, ICAIS was determined to set the misconception right by completing a successful blood drive this year too. Interact continues to be an important and fulfilling element in the lives of its members and their teacher-in-charge, Ms. Sharon Rajendra.
"Life's most urgent question is: What are you doing for others?" said Martin Luther King, Jr.
Interactor Nida Yasheen
Editor | Interact Club of Asian International School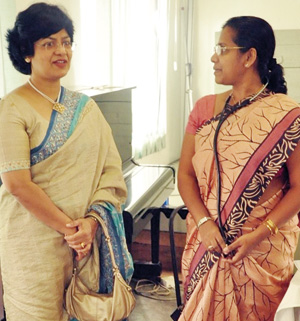 Principal, Ms. Priyanthi Seneviratne with Dr. Nirmali de Silva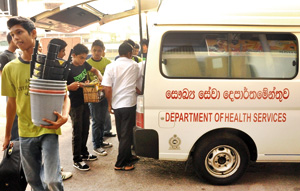 Service Above Self