State institutions within the Western Province have turned out to be the main breeding grounds for dengue mosquitoes, resulting in 23 deaths and more than 5,000 cases in this province, for this year.
According to health authorities, railway yards and reservations, railway quarters, government housing complexes, old State buildings, prisons, ports and bare lands belonging to State institutions have been identified with the highest mosquito density.
Maligawatte flats: Many mosquito breeding spots. Pix by Nilan Maligaspe
By June 25, 69 dengue deaths and 9,083 cases were reported islandwide. Colombo District recorded the highest number of deaths with 12, and 3,413 cases followed by Gampaha District with 8 deaths and 1,113 cases. Kalutara District reported 3 deaths and 551 cases.
Dehiwala, Kolonnawa, Nugegoda and Piliyandala are the high risk Medical Officer of Health (MOH) areas in Colombo district, while Wattala, Gampaha, Minuwangoda and Kelaniya are areas with the highest number of cases reported in the Gampaha district. In the Kalutara District, Panadura and Matugama MOH areas recorded the most number of cases.
In the Colombo District, the Colombo Municipal Council (CMC) area recorded 1,352 cases, while other areas of the Colombo District reported 2,061 cases by end June.
Western Province Health Services Provincial Director Dr. Amal Harsha de Silva said the Health Ministry is hoping to bring in a special Cabinet paper to recruit more Public Health Inspectors (PHIs), while arrangements have been made to re-recruit all retired PHIs to be involved in dengue control programmes.
At present, the ratio is one PHI for 30,000 persons, though the requirement is one PHI for 10,000 persons. "June saw an increase in mosquito larvae spots as well as the number of cases. Most of the places were schools, government offices, railway lands and illegal constructions. More raids will take place with the increase in PHIs," he said.
June had 2,286 cases, while May recorded 1,956, and April 1,763 cases. CMC Chief Medical Officer Dr. Pradeep Kariyawasam with about 12 years of experience in dengue control, said that in order to control the spread of this disease, all sectors should be involved together.
"Health, environment, education, public administration, local government, transport, housing and defence ministries should work together, as most of the institutions and places with dengue breeding spots come under these ministries," he said.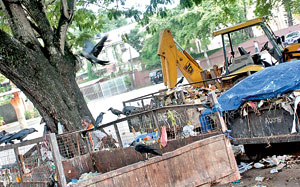 Overflowing rubbish bins in the vicinity of Cambell Park
He said tyres, discarded tins, coconut and king coconut shells, trees that hold water, gutters, ponds, fish tanks, discarded plastic ware, glass and cement vases, polythene and concrete slabs were found to contain mosquito larvae.
Urban Development Authority General Manager Nihal Fernando said the illegal construction in government flats and low income settlements have been a den for mosquitoes, with lack of space, poor waste management and congestion.
"Illegal construction in government flats in the Colombo District has been a menace with most of the dengue cases are reported from these government flats. Therefore, with the help of the Ministry of Housing, we will remove them," he said.
About 36,000 persons were warned to clear their environment during the dengue week which fell from June 22 to 26. Out of the 67,055 vacant plots, residences, private and State institutions and schools inspected during the first two days of the week, 16,565 areas were identified as high-risk places.
On Tuesday, the Presidential Dengue Task force met ministry secretaries, provincial directors of health, provincial health secretaries and officers from the health ministry and decided to strengthen the "entering premises and fining" clause by amending the Mosquito Breeding Prevention Act.Meanwhile, a group of specialists from the World Health Organization (WHO) office in Bangkok, were in the country to provide training on dengue treatment for child specialists and neurosurgeons of major hospitals. They were trained in identifying the disease, treatment and case management.
The ministry has put up 52 high dependency units in 52 hospitals, with each unit containing five ICU beds to cater to the increasing number of patients.