Assistant Superintendent of Police Hettiarachchi Samudrajeewa who received compensation from the former Presidential Security Division (PSD), Director DIG Nihal Karunaratna for obstructing him while carrying out official duties used the money to donate equipment to the Castle Street maternity hospital.
He personally made the donation to the Hospital satff in the presence of the Director Dr. Rani Fernando.
Mr. Samudrajeewa was awarded compensation amounting to Rs. 300,000.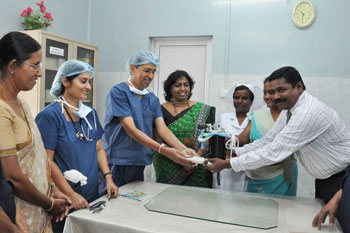 ASP Hettiarachchi Samudrajeewa handing over a document pertainig to the donation
The PSD chief Karunaratna was convicted by Colombo High Court Judge Kumudini Wickremesinghe and sentenced to a two-year term of rigorous imprisonment suspended for 10 years.
He was also fined Rs, 25,000 and ordered to pay ASP Samudrajeewa Rs. 300,000 as compensation for obstruction of duty.
The incident took place when ASP Samudrajeewa led a police team to arrest three suspects on 2nd February 2000 at Beddagana in Pitakotte.
Soon after the arrest DIG Nihal Karunaratna, who was the Director of the PSD during the tenure of President Chandrika Kumaratunga, arrived on the scene following a call made by Beddagana Sanjeewa and the police party was threatened.