A Sri Lankan woman who worked as a domestic in a Saudi Arabia household returned to the country recently totally blind after her policeman employer is alleged to have poured a strong detergent into her eyes.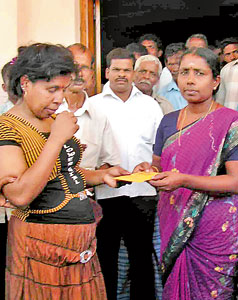 The victim (L) handing over a petition to Vakarai Divisional Secretary K.Ragulanayagi
The woman-Manoharan Bawani aged 42 and a mother of three told the Human Rights Commission in Batticaloa that her employer, apart from blinding her had also subject her to various forms of torture for a period of nearly eight years.
She told the Commission that she had taken up employment in the Saudi household in 2003 through an agent operating in Maradana, and the trouble began when she pressed her employer for the due wages.
"I was repeatedly assaulted by several members of the household and kept in solitary confinement in a dark room situated in the basement of the house, with very little access to sunlight, for several weeks," said Bawanai, a resident of Vakarai in Batticaloa.
"At the end of the ordeal my employer dumped me in the Sri Lankan Mission in Riyadh, but here too there was very little assistance offered to me by the embassy officials," she said.
"It was later that fellow Sri Lankans who were also stranded at the Mission made a hat collection towards my travel expenses back home, but there was zero assistance from the embassy staff," she said.
"I paid something like Rs. 75,000 to the Maradana agent to secure employment in Saudi, but now I have returned blind, mentally disturbed and cent-less," she lamented to the Sunday Times yesterday.