Trafficking in girls, including underage children from the North, for prostitution, under the guise of employment in Colombo, has been unearthed by the National Child Protection Authority (NCPA).
The breakthrough came when a 16-year-old girl ran away from the National Hospital in Colombo where she had been warded for an operation to prevent pregnancy.
"The girl had run away to the police and related her story, and she was handed over to us," said NCPA Chairperson Anoma Dissanayake. She said that, based on the information provided by the runaway girl, police raided a brothel in Maradana and found eight girls between the ages of 16 and 24 being used as prostitutes.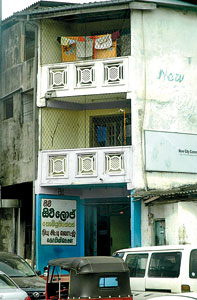 The Maradana building where the Police
rescued nine teenage girls from a brothel
Of the nine girls in custody, six are from the Northern Province and one from the east. When the police raided the location, it appeared to be a lodge with nothing suspicious, but the girl in custody, who was aware of the layout of the building, had pointed out a cupboard, telling the police to push the cupboard aside, where they found an opening into another room.
Police found eight more girls – two of them underage, huddled in a room. Among the other items recovered from the room were 1,500 condoms. The girl who first reported the incident to the police was from the Mullaitivu district and had been brought to Colombo by a broker.
She claimed that she had been used as a prostitute in other locations by the same manager of this brothel, and paid amounts varying between Rs. 500 and Rs. 1,000. Another 18-year-old girl who had been displaced in the final stages of the conflict, had initially lived in a camp for the displaced in Vavuniya, and brought to Colombo by a broker, promising her employment.
Ms. Dissanayake said the girls in the brothel had been looked after by a midwife of the Colombo National Hospital. "She was in charge of giving them contraceptives and looking into their medical needs. She had the assistance of a doctor as well," Ms. Dissanayake said.
The manager and two others in the brothel have been arrested and remanded. Ms. Dissanayake said parents should be careful when they hand over their children to persons who promise them employment. "We will not hesitate to take action against such parents," she added. She said that they hope to nab more suspects linked to the racket and get to the bottom of the racket.