It is a business not only all over the city of Colombo but in the suburbs as well. As noon approaches, tightly-wrapped parcels or colourful boxes are stacked high on makeshift tables by the roadside.
For many schoolchildren, university students and office workers who have hardly had anything to eat for breakfast, the buth mula in these parcels or boxes will be the only sustenance for a long day.
What does the buth mula or packet of rice contain? This is what the Sunday Times set out to ascertain, when a three-member team toured the city and suburbs to see not only the range offered but also the quantity and quality.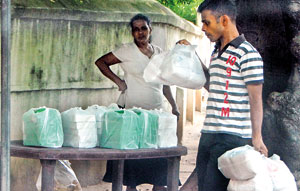 A roadside stall at Thimbirigasyaya. Below; Outside the Colombo University. Pix by Sanka Vidanagama
The Sunday Times randomly collected seven packets from wayside vendors at locations such as the Town Hall, close to the Colombo University, Thimbirigasyaya, Borella, Dematagoda, Rajagiriya and Nawala.
The price of a packet ranged from Rs. 60 to Rs. 100 and either had chicken, fish, omelette, dried sprats or just vegetables, with the quantity of rice and servings of curry being quite small.
The one from near the Town Hall costing Rs. 90 consisted of rice, fried fish dhal, beetroot, leeks, pol sambol and a tiny piece of omelette, most probably about one-tenth of an egg. The Rs. 60 packet close to the University of Colombo had rice, dhal, carrots, mallung and dried sprats, with the vendor assuring us that it was 'home-made' while the one from a wayside outlet at Nawala Road, Rajagiriya costing Rs.100 had rice, dhal, a piece of chicken, cabbage, bitter gourd and kankun.
The packet from Thimbirigasyaya sold at Rs.80 along with rice had dhal, carrots, mallung, long beans and papadam and another from Borella for Rs. 85 had only rice, a piece of chicken, a cucumber salad and chillie paste.
Another packet picked up from an eating house at Dematagoda for Rs. 100 had rice, dhal, fish, brinjals, drumsticks and kankun while along with the Rs. 80 packet which contained rice, dhal, omelette, mallung, kekiri and radish came assurances that it was home-made.
Dhal seemed to be a staple along with rice, but in a packet which has protein in the form of chicken or fish, should not another vegetable be included? Are the quantities adequate? These are the questions that came up for nutritionists to answer and bring about regularization.
Although the packets were wrapped well, there was no cleanliness in the way the accompaniments which were the 'rice-pullers' such as pappadam and fried chillies were handled. Kept separately from the packets of rice, in large sili-sili bags, the pappadam and chillie were not only exposed to dust but also to the vendors' hands, the washing of which were questionable with no water in sight.
Mostly delivered by three-wheeler to the wayside sales points, the Sunday Times checked out from where the packets emerged. Who were the suppliers and in what type of kitchens were these packets prepared?
The Sunday Times tracked down a supplier from Gangodawila who said he had been in this business for 20 years. According to him he supplies daily 500 packets to different points in Colombo. The process begins at 5 a.m. every day and by 9 a.m. the packets are wrapped and ready for delivery. The menus are changed daily depending on the price, with his packets ranging from Rs. 60 to Rs.80 depending on the vegetable varieties included.
The Rs. 80 packet includes five vegetables with either fish, chicken or egg while the lower-priced one has three vegetable varieties with fish, chicken or egg. When asked about registration, the food supplier said he is registered at the Maharagama Urban Council and the Public Health Inspector inspects his kitchen once a month.
To check out the situation with regard to quality, when the Sunday Times contacted the Colombo Municipality's Chief Medical Officer Dr. Pradeep Kariyawasam he conceded that wayside stalls were inspected only three years back but food outlets selling packets of rice are scrutinised regularly.
"We have checked those places and given instructions and warnings where there have been contamination and we continue to re-check until things are put in order," he said, adding that other samples of food have been tested regularly and contamination has come down.
"Food hygiene is a very big issue now. It's not just lunch packets, they also prepare various other food items in these kitchens," he said. Earlier the checks were for E.coli bacteria but recent findings indicate things like Staphylococcus Aureus, yeast and mould, he said.
Referring to some detections this month where vendors had been fined after being charged in court, Dr. Kariyawasam said a roti with E.coli was found in an eating house on Malay Street and a fish curry with the same bacteria from Deans Road. There had also been instances where a gecko was found in kottu roti sold at a food outlet in Panchikawatte and three samples of lunch packets from Maradana Road with worms in them.
E. coli comes from the human body and when found in food shows that people who have been preparing food are not clean. Staphylococcus Aureus comes from the nose or the skin, while yeast and mould are due to the raw material not being washed properly, he explained.
Explaining how quality testing is done Dr. Kariyawasam said that random samples collected from eating places and hotels are tested in the microbiological and chemical labs. Prior to obtaining the licence, hotels have to give samples – five from top grade hotels and three from small hotels.
"We check the water as well. Even if the food is okay, the water coming to the kitchen can be contaminated. By law they have to get water from the main line. Tube-well water is contaminated in Colombo," he added. In most of the instances, the packets of rice sold in Colombo are prepared outside. "It's the responsibility of the Medical Officer of Health to inspect the kitchens and food outlets in their respective areas. We wanted to make it necessary for MOH certification before food is sold here, but there is no law to register the wayside sellers, he said, adding that they are trying to legalize the permanent places first to have a standard on food hygiene by the end of this year.
Managing with just four food inspectors for the Colombo area, Dr. Kariyawasam said that it's difficult to carry out monthly inspections. "What we are trying to do is to get the top grade ones to a good level so that others can follow. There are about 515 eating houses in the city but so far only 150 are approved," he explained.
In other countries, rice-based cooked food cannot be kept for more than three hours, said Dr. Kariyawasam leaving many a issue about the packets of rice that are seen on the wayside, for how long no one knows.
Hotlines
Urging the public to play their part in standardizing the food that is sold not only at eating houses but also by the roadside, Dr. Kariyawasam requested people to inform the CMC about irregularities on Phone: 011-2676161 or 011-2691922.