China which has been increasingly involved in Sri Lanka's economy, has secured another lucrative deal — creating a new 500-acre, port city on reclaimed land on the sea off the Galle Face Green. A top Government source, who declined to be named due to the sensitivity of the deal, said the government had agreed to the US$700 million offer from a Chinese investor. The offer has been channelled through Chinese authorities.
The securing of the investment was itself announced by Sri Lanka Ports Authority (SLPA) Chairman Priyath Wickrama at a public forum on shipping earlier this week in Colombo but he didn't disclose the identity of the investor or the country of origin.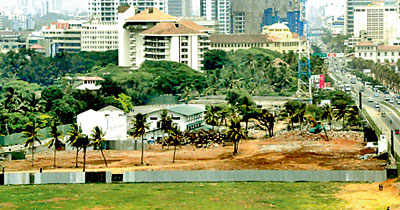 Army HQ being cleared for Shangri-La and CATIC. Pic by Mangala Weerasekera
China's CATIC, essentially an aircraft manufacturer and parts supplier, has bought a 10-acre block of land adjoining the Shangri-La project at Galle Face for a hotel and shopping mall complex. Many other Chinese companies have secured lucrative Sri Lankan contracts for infrastructure and other projects including the harbours in Hambantota and Colombo, with the Government seen to be favouring Chinese entities over others.
Mr. Wickrama said the reclaimed land investment would be on a 99-year lease. But the Government official told the Sunday Times it would be an outright purchase and agreements for the landfill and construction of the new city would be signed soon in a project stretching up to 2014.
The official said the Government wanted to discontinue the practice of long leases of state land and sell them outright (like in the case of Shangri-La and CATIC) based on the valuation of the Chief Government Valuer.
The re-developed land would then be offered to other investors and the private sector, by the Chinese developer under the guidance of Government agencies which would be responsible for the entire design of the project.
The Sri Lanka Ports Authority will oversee the reclamation project which will be divided into three segments -- business, residential and leisure. A mini-golf course, a Formula One race track, a small yacht marina and areas for water sports will be created. The feasibility study and an environmental impact assessment conducted by the Sri Lanka Ports Authority and the Moratuwa University have been completed.
Port Authority officials said the Lanka Hydraulic Institute (LHI) had been entrusted with the task of providing hydrographic and modelling services. Construction work will be carried out under the supervision of the Urban Development Authority, the Colombo Municipality, relevant Ministries and the Archaeological Department.
The Galle Face reclamation project was first announced by President Mahinda Rajapaksa at the ruling UPFA's May Day rally last year and subsequently drew protests and concern from environmentalists and residents.