For businesses, sustainability is an influential and defining idea: a sustainable company is one that creates profit for its shareholders while shielding the environment and improving the lives of those with whom it connects, while embracing the triple bottom-line of doing business, according to an international personality on corporate social responsibility.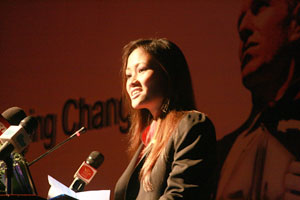 Patricia Gallardo
"The sustainability landscape is changing and the way we cope spells the difference for business success and failure. Big names such as Wal-Mart, Vodafone, Starbucks Coffee, Puma and Intel have understood this and have in turn taken measures to adapt to this environment," Director of Corporate Social Responsibility and Sustainability, Shangri-La International Hotel Management, Hong Kong, Patricia Gallardo said, addressing an eminent gathering at the CIMA Business Leaders Summit inauguration early this week.
According to Ms. Gallardo, triple bottom-line ('TBL' or '3BL', and also known as 'people, planet, profit' or 'the three pillars' on which the businesses operate so that the business interests and the interests of the environment and society intersect) business stands an excellent chance of being more successful tomorrow than it is today, and remaining successful, not just for months or even years, but for decades or generations.
She said that Triple Bottom Line is not an award, accreditation or a certification you can achieve - it's an ongoing method that just helps a company keep on track towards operating a greener business and exhibit to the community at large they are working not just towards riches, but the greater common good. She noted that this is what consumers increasingly want to see these days along with businesses being expected to find ways to be part of the solution to the world's environmental and social problems. She pointed out that the best companies are finding ways to turn this responsibility into opportunity or finding that sweet spot.
"Wal-Mart for instance after making its supply chain green has recorded a 20% decrease in CO2 emissions and also changed the mindset of its customers, who in turn have become more sustainably responsible by shopping at Wal-Mart," she said.
Ms. Gallardo said that a business strategy focused solely on the bottom line is bound to disguise opportunities to chase innovation and create value in the design process. She added that whereas traditional models were all about profit, profit and more profit; triple bottom line identifies that without happy, healthy people to staff a business and the natural environment able to sustain those people and supply resources for trade; business is unsustainable in the long run.