The Asian – Oceanian Computing Industry Organisation (ASOCIO) held its plenary meeting on June 6-7in Colombo where CAM Management Solutions was invited to present its products and services during the business networking session.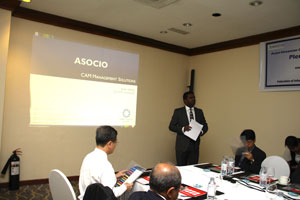 Picture shows the CAMS presentation at the conference.
"As a company that strives to achieve prosperity within the IT industry in a variety of markets, I would like to take this opportunity to introduce CAM Management Solutions one of Sri Lanka's fastest growing Global Service Delivery Centres providing Performance Management and Business Intelligent Solutions," said Damith Hettihewa, CEO of the Federation of ICT Industry and Services Sri Lanka (FITIS), at the meeting.
Brian Walter, Country Manager of CAM Management Solutions who addressed the delegates, began by introducing the company saying CAM Management Solutions (CAMMS) was established in 1996 in Australia as a Management Consulting company offering consulting services on Integrated Planning and Performance Management, predominately for the public sector, helping them to develop Strategic, Corporate, Business and Service level plans and Performance Management frameworks. In 2001 it became an IT solutions company and in 2003 the company started to outsource software development to Sri Lanka.
He said 2011 is a very significant year as the company has launched the world's first Organisation Empowerment System – SYCLE during a conference in Gold Coast Australia and later went on to showcase the product in Gartner conferences in Australia, USA, UK and several other conferences in Asia.
SYCLE is a solution that offers its users comprehensive Business Intelligence tools.