President Mahinda Rajapaksa has given an assurance to 3-wheel drivers to look into their grievances and safeguard their means of self employment which is under the threat from the new, cheap Nano cab service.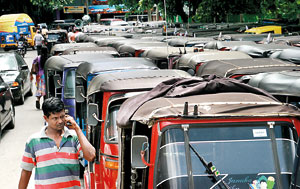 The protest
He will meet the representatives of Federation of Self-Employees (3-wheelers) to discuss their issues within two weeks, the association was told when its President handed over a memorandum to the Assistant Secretary to the President Premasiri Jayalath on Tuesday.
Federation General Secretary, C. Asoka Hettiarachchi told the Business Times that "although the police had placed road blocks near Sambodhi Viharaya preventing the protest demonstrators from marching forward towards Presidential Secretariat they were able to hand over their memorandum to officials at the Secretariat in Colombo Fort" .
Thousands of 3-wheel drivers staged a protest demonstration and a rally at Hyde Park in Colombo on Tuesday demanding the authorities to protect their livelihood from the recent threat posed by the cheap Nano taxi service.
Addressing the rally, Federation President Mahinda Kahandagama said that these new cabs have taken over 3-wheel taxi stands at Borella and Pettah and they plan to invade all 3-wheel stands in the city of Colombo. This will be a grave threat for their livelihood as the new cab service operates at cheap rates at the initial stage to attract customers pushing 3-wheel drivers into difficulty and after getting rid of the 3-wheelers they will increase fares, he added.
He urged the government to immediately implement the Mahinda Chintana pledge given to them during the presidential election period. According to the Mahinda Chintana policy document, the President has pledged to introduce an insurance scheme for 3-wheel owners and drivers and to provide permanent parking places for them.
He also promised to introduce special tax concessions and loan schemes for these vehicle owners to purchase, environment-friendly 3-wheelers as well as to implement a special programme to safeguard the professional dignity of three wheel owners and drivers. These pledges have not been fulfilled as yet, he said.
"More than 400,000 three-wheel taxis are operating countrywide, with over two million people depending on the earnings from this service," Mr Kahandagama said.
The 24 hour yellow colour Nano cab taxi service was launched in Colombo recently with a fleet of 25 cabs and plans are underway to expand it to 200 cabs before the end of this year. Sensing that their business might be nearing the end, 3-wheel owners anddrivers in Sri Lanka are protesting against it. Federation General Secretary, Asoka Hettiarachchi said their members will be greatly affected if the Nano fleet is expanded any more.