"You can enjoy the calm breeze which comes from the paddy field, and it keeps you relaxed at the begining of the day and after hard days work ."While the sunrise and sunset offer perfect relaxation opportunities of the tranquil surroundings and the blaze of colours that fade into the area which surrounds the "Prime Alankara " property provides healthy living for prospective buyers of these plots at the fully developed land area in the extent of 03 acres with unspoiled nature and they will have more privacy to live in a residence at the site without any disturbance, said Ms. Sandamini Perera, Director/CEO of the Prime Group of Companies in an interview with the Sunday Times Free Hold supplement.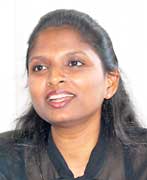 Ms. Sandamini Perera, Director/CEO of the Prime Group of Companies
With lush green paddy fields adorn both sides of the two kilo meter road leading to truly beautiful location of "Prime Alankara " land area comprising all urban facilities such as Super Markets, Hospitals, International Schools, National schools , Information Technology institutes , Universities , electricity, water , swimming pools and other infrastructure facilities have now been fully developed by a leading real estate company in the island, Prime Lands (Pvt.) Ltd. which is a subsidiary of the Prime Group of companies and a popular firm in the property and land development industry.
Prime Lands (Pvt.) Ltd with a mission "Committed to create a better place on earth" is now offering 30 blocks of land at "Prime Alankara located at Malabe in close proximity to an international school and Sri Lanka Institute of Technology a leading IT training institute in the island. It is located very close to Malabe town, which is the next best preference to Battaramulla. With only a 10 to 15 minute drive from Battaramulla.
"Prime Alankara " a truly beautiful site, with excellent climatic conditions is offered at a very competitive price range, she said. Ms.Sandamini noted that there is a high demand for blocks of land in environmental friendly residential areas such as Malabe where 'Prime Alankara' is located. Already ten of our land plots have been purchased even before its launch and it indicates the interest of buyers for such beautiful location she said. On the other hand people prefers blocks of lands to build houses in areas due to its easy accessibility to the city. She pointed out that this site in Malabe is located very close to Salmal Uyana main bus shelter where plenty of buses are being operated to Colombo and suburbs daily.
Ms.Perera said "In the early morning you will find health conscious citizens walking and jogging along the 2 Kilo meter stretch of road, enjoying the cool breeze blowing across paddy fields 'Prime Alankara' residents can join them in keeping their bodies fit and healthy. Jogging not only provides fitness to the body but it also makes the mind fit. Kite flying is something that is popular among children in the area because of the stretch of open skies." All these things with unspoiled environment add lustre to . "Prime Alankara "he added.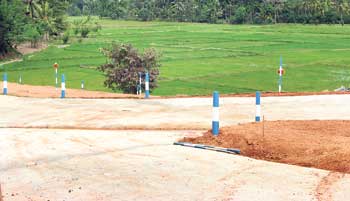 Outlining the progress of the company gained through its efficient and honest and pragmatic business management Mrs. Sandamini Perera, CEO/Director of Prime Lands, said that around 30 land development projects have been completed during the past three months in the backdrop of gradually picking up of real estate business in the country. She said that the company is progressing steadily with several new property development projects in Athurugiriya, Pelawatte, Pannipitiya, Horana, Matara town, Kamburugamuwa, Peradeniya, Kandy, Kurundugahahethamma, and Kalutara Dodangoda .
Prime Lands will handle all necessary documentation in land transactions for the convenience of its customers in addition to its own loan system. It will also be assisting customers to get the necessary bank loans and other banking facilities, she added. She noted that easy payment systems have been introduced by the company with a view to saving customers' time and money. Prime Homes International (Pvt) Ltd: a subsidiary of Prime Group of Companies, was launched in 2006 to provide housing solutions to international standards.