Swim Holdings (Pvt.) Ltd., is an ICTAD registered company established in 2003. The company is a swimming pool builder and total water management provider with the necessary credentials to design and install any type of pool or spa of the highest international standards. The company is the sole agent for 'PINA' swimming pool products from Europe. Swim Holdings possesses a management and staff team with over a decade of experience in the industry and envisions becoming an exceptionally well managed and leading total water management solutions provider in Sri Lanka. Currently Swim Holdings maintains a strong position in the market and is one of the fastest growing total water management solutions providers in the country.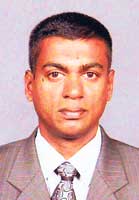 Mr. Roshan Nettasinghe, Managing Director of Swim Holdings
Having been in the trade for almost ten years, Swim Holdings began from very humble beginnings and today has become a true force to reckon with in the industry. To date the company has completed an estimated 250 pools locally as well as internationally. Having completed several successful projects in the Maldives, Swim Holdings' most recent project venture is in Sudan.
Currently Swim Holdings has around 15 pools under construction, and specializes in domestic pools for individual clients as well as commercial pool constructions especially for the hotel sector. Over the years the company has built up a sound and enviable reputation in the industry which includes a wide client base. The Sunday Times Supplements Desk met Mr. Roshan Nettasinghe, Managing Director of Swim Holdings to find out more about their services.
"We possess the ideal blend in leadership, technology and experience that is multiplied by total commitment which has made us a formidable water management provider in the industry within a very short period of time. While our main focus is on designing and construction of swimming pools together with our vast construction expertise we can offer the most cost effective swimming pool and spa services which include supply and installation of steam rooms, saunas and hydrotherapy spas as well as a host of other value added services such as designing and construction of waste water plants, repair and refurbishing of swimming pools, maintenance of swimming pools or spas as well as the complete package providing everything from swimming pool equipment and accessories to chemicals and spare mechanical parts", says Mr. Nettasinghe.
All Swim Holdings equipments are imported from Europe, where raw materials such as tiles, sand and steel are the only local materials used. A ten-year warranty is provided for the pool's concrete shell and two-year warranty for the pool equipment. One of the latest additions to the market by the company are the saltwater pools, which although is a concept new to Sri Lanka is one that has become immensely popular the world over.
"Saltwater pools are chemical free pools and at the moment we have constructed around 10 such pools island-wide, which have become very successful projects as these types of pools are much lower in maintenance cost, when compared to the normal pools. The main reason for this is the fact that these saltwater pools do not require the use of chlorine and other types of chemicals that the normal pools require. Salt water pools are very healthy as they are free of chemicals and therefore does not present any form of allergic reactions such as itching, rashes, red eyes or asthma etc.", further stated Mr. Nettasinghe.