IFS R & D International (Pvt.) Ltd. has chosen DMS Electronics Ltd and HP as their preferred supplier to deliver and implement the first converged infrastructure solution in Sri Lanka. The solution comprises of HP EVA 8400 Enterprise Storage System and HP BLC 7000 Blade Centre with virtual connect infrastructure.
Convergence breaks down manual processes and technology bringing together IT resources in many applications, managed as a service. IFS is confident that the new data centre infrastructure will meet its business needs in the next 5 years. HP's converged infrastructure concept works well with the future IT plans of IFS, as it simplifies IT and accelerates business results.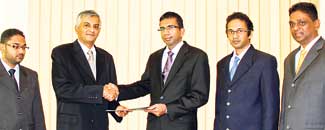 Left to Right: Mr. M. Faraj Najimudeen - Senior Sales Engineer, DMS Electronics Limited, Mr. T L Chandranath - Managing Director, DMS Electronics Limited, Mr. Ranil Rajapakse - Director Software Development and Chief Operating Officer, IFS, Mr. Rasanga Chinthaka - Director, Information Services, IFS, Mr. Shiran Perera - Country Manager, Enterprise Business Sri Lanka & Maldives, Hewlett-Packard Lanka (Private) Limited.
IFS, a world leading business solutions provider, develops, supplies, and implements IFS Applications™, a component-based extended ERP suite built on SOA technology, with a focus on aerospace & defene, utilities & telecom, manufacturing, process, automotive, retail & wholesale distribution, and construction contracting & service management industries. IFS has 2,600 employees and over 2000 customers in 54 countries. IFS has been operating in Sri Lanka since 1997 with offices in Colombo and Kandy, and has established itself as one of the leading software development companies in the country with over 650 IT professionals.
DMS Electronics Ltd., the leading Systems Integrator in Sri Lanka since 1981, a subsidiary company of the DMS group strengthened with a workforce of 500 employees across the group is today a lead partner for world-class products like HP, 3Com, Aspect, Hypercom, Symantec, Microsoft, Apple, TouchMedia and Plantronics and a host of other solution partners such as Servion. The company offers span IT infrastructure, personal computing and access devices, business solutions, imaging and printing, payment solutions and services.