The Ceylon National Chamber of Industries, the premier Industrial Chamber in the country recently concluded the CNCI Achievers', Awards for the year 2010 at the Cinnamon Lakeside Hotel Colombo and the Chief Guest for the event was the Honourable Prime Minister D.M. Jayaranthne. The primary objective of the "Achievers of Industrial Excellence" Awards is to promote industrial growth in the country by recognizing organizations that have excelled. The growth and expansion of Union Assurance has undoubtedly helped Union Assurance achieve this success.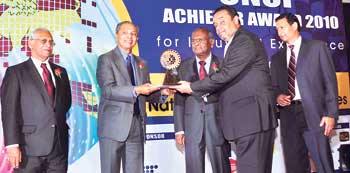 Seen in picture Niranjan Nagendra - General Manager Corporate receiving the coveted award while Assistant General Manager General Distribution Nihal Handunge looks on.
Union Assurance PLC one of the leading composite insurance companies in Sri Lanka was awarded the CNCI Achiever Silver Award for the year 2010 in the extra large category in the service sector. This is the first time that an insurance company has been able to win this award. The evaluation was made on a number of criteria encompassing Turnover, Value Addition, Productivity, and Responsibility Towards Employees, Growth and Future, R&D, Quality Assurance, Environment Responsibility, Health and Safety and Social Responsibility. Union Assurance was the only and 1st insurance company to be recognized at the 9th CNCI Achievers' Awards.
Niranjan Nagendra, General Manager Corporate, Union Assurance PLC stated that UA had hown positive growth and had a strong capital base. Our dedication to duty is renowned, and we have had the honour of being embellished with several prestigious local & international awards over the years. These accolades reflect our continuous commitment to transparency, good governance, and customer focus.