LONDON (AFP) - The British ex-husband of a key figure in the Russia-US spy storm told how his glamorous former wife became "obnoxious" and dominated by her KGB father, in an interview published Friday.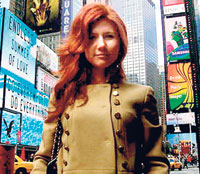 Anna Chapman dubbed femme fatale of the Russian spy case
Alex Chapman told the Daily Telegraph he was suspicious that Anna Chapman, the flame-haired 28-year-old now in detention in the United States, had become "conditioned" even before their marriage collapsed in 2005.
He said he was surprised to hear she had gone to the United States because his ex-wife had always made disparaging remarks about Americans and said she did not want to go there. Alex Chapman, now a 30-year-old trainee psychiatrist, told the Telegraph that he met then Anna Kushchenko at a London party in September 2001. They married five months later in Moscow after a whirlwind romance.
The Telegraph said British intelligence was now investigating whether she had worked as a spy when she lived in Britain or was recruited when she lived there. "Anna told me her father had been high up in the ranks of the KGB. She said he had been an agent in 'old Russia'," he told the Telegraph.
The couple visited the father, Vasily Kushchenko, in Zimbabwe where he was officially working as a diplomat. "Her father controlled everything in her life, and I felt she would have done anything for her dad. When I saw that she had been arrested on suspicion of spying it didn't come as much of a surprise to be honest."The father seemed a "scary" man, he said.
"He didn't trust anyone. He asked me why I had chosen a Russian bride and asked what business I had done in Russia, and I said none," said the Briton. "He was scary. He would never introduce me to other Russian people who came to the house and he always seemed to have a lot more security than the other diplomats.
"He had a Land Rover with blacked-out windows and there was always one car in front of it and one car behind," he added. Alex Chapman said that at first his wife had been carefree and led a "bohemian" lifestyle but she changed dramatically during the four years of their marriage.
"When she was still living in London she fell in with a group of people who had a lot of influence. She would go to film premieres and became arrogant and obnoxious, always going on about powerful people she was meeting," he said. By 2006 they had divorced, but have remained in touch since.
Alex Chapman said he did not believe his wife was working as a spy while in London. He suspected she was being "conditioned" to launch into espionage. "I don't think she was working as a spy here but I suspect she had been conditioned towards that end," he said.
Anna Chapman is among 11 suspected "deep-cover" suspects charged with trying to infiltrate US policymaking circles and report back to Moscow in a Cold War-style spy case that threatens to strain thawing ties between the countries.
She was remanded into custody without bail at a New York court on Monday. Enormous media attention has focused on the 28-year-old since the suspected spies were snared, with media portraying her as a green-eyed femme fatale.
Alex Chapman said it did not come as a shock that his ex-wife had been accused of being a Russian agent, given what she had told him about her father. He said he was visited by agents from the domestic MI5 intelligence service at his home in Bournemouth, southern England, on Wednesday and was questioned about his former wife.
The Foreign Office has said it was looking into Anna Chapman's links to Britain.