ALEXANDRIA, Virginia, July 3, (AFP) -Three of the 10 accused Russian spies held by the United States were ordered to stay in detention Friday, as prosecutors said two of them were the first to give up their true identities.
Suspects "Michael Zottoli" and "Patricia Mills" -- a married couple ordered by a judge here to be kept detained along with third suspect Mikhail Semenko -- confessed in post-arrest statements that their given names were fake and that they in fact were Russian citizens.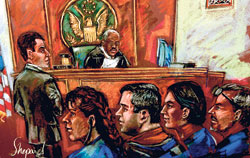 (From L to R) Russian spy suspects Vicky Pelaez, Richard Murphy, Cynthia Murphy and Juan Lazaro, are seen in this courtroom sketch during an appearance at the Manhattan Federal Court in New York, July 1.
"Zottoli" admitted his true name was Mikhail Kutzik and that his real birth date was different to the one given under his cover, prosecutors said, with "Mills" confessing her real name to be Natalia Pereverzeva.
Both have family members still living in Russia, they said.
The court was unlikely to grant the three suspects even temporary freedom, with US authorities still sweating over the disappearance in the spy saga of eleventh suspect Christopher Metsos, who was arrested in Cyprus but vanished after posting a 26,500-euro (32,330-dollar) bond and surrendering his passport.
Cyprus's Justice Minister Loucas Louca said Friday he believed Metsos was no longer on Greek-Cypriot territory, but admitted he had "no hard evidence" to support the claim, as police continued to hunt for the suspect. There was speculation that Metsos, 54, might have crossed into northern Cyprus to take advantage of the fact that the breakaway Turkish Cypriot statelet has no extradition treaties and is a well-known haven for fugitives.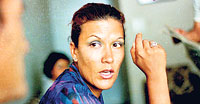 Vicky Pelaez at her home in Lima, in this 1984 file photo.
In total 10 suspects were arrested in the Sunday swoop on alleged "deep cover" agents living in the United States, in a case that has recalled shadowy Cold War hostilities between the superpowers.
The US government meanwhile said its case continues to strengthen with new evidence, with "well over" 100 decrypted messages between conspirators yet to be revealed, compared to a handful of other such messages mentioned so far.
In searches of Kutzik and Pereverzeva's home and rented safe deposit boxes since their arrest, prosecutors also said among other evidence 80,000 dollars in cash was found in eight envelopes, "packaged in exactly the same way" as those recovered in New Jersey this week in search warrants on other suspects.
Revelations over false identities Friday came as the British former husband of the glamorous 28-year-old Russian suspect Anna Chapman told how she was dominated by her KGB father. (See story on Page 2).
Counting the three suspects Friday, all but one of those captured have been ordered kept behind bars.
Only Peruvian-born journalist Vicky Pelaez, the wife of one suspect in the case who operated under the false identity of "Juan Lazaro," was told this week by a New York judge that she could be released under house arrest on a 250,000-dollar bond."Lazaro" cracked after his arrest to confess he was a Russian agent, but refused to reveal his true identify, and told prosecutors he had more loyalty to the "Service" than to his own son. The "Service" is short for Russia's foreign intelligence service SVR, the successor to the Soviet-era KGB.
The charges of trying to infiltrate US policymaking circles has threatened to upset efforts to "reset" ties between Washington and Moscow. US Secretary of State Hillary Clinton, on a visit to Ukraine, declined Friday to comment on the spy scandal, saying only that Washington is "committed to building a new and positive relationship with Russia.
"We're looking toward the future," she insisted. The future for the case is unlikely to wrap up anytime soon, however.