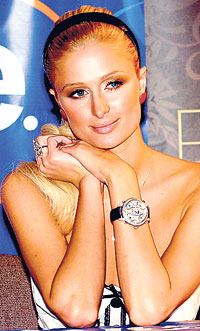 PORT ELIZA, South Africa, July 3 (AFP) -American party girl Paris Hilton was arrested for possession of marijuana at a World Cup match Friday, but a South African judge tossed out the charges against her.
Hilton and her friend, former Playboy Playmate Jennifer Rovero, were arrested for carrying a joint at the Brazil-Netherlands quarter-final match in the southern city of Port Elizabeth.
They appeared in one of South Africa's special World Cup courts at 12:20 am Saturday (2220 GMT Friday), about six hours after the match, where Hilton was named "Accused No. 1" in the case. "The charges against you, Accused No. 1, are dropped," magistrate Xolile Dlulisa said.
"Thank you, your honour," Hilton replied and left the court, after the three-minute hearing. She arrived at the courthouse about 30 minutes earlier and appeared relaxed, smiling at court officials with her blonde hair pulled into two ponytails and wearing a white t-shirt with a lion on the front, green trousers and brown boots.
Her friend 31-year-old Rovero was found guilty of possession of marijuana and ordered to either spend 30 days in jail or pay a 1,000 rand (128 dollar, 100 euro) fine. She paid the fine.