JERUSALEM, July 3 (Reuters) -Prime Minister Benjamin Netanyahu said on Friday Israel could not apologise for a raid on a Gaza-bound flotilla in which nine Turks died, but stressed that he wanted to avoid further harm in relations with Ankara.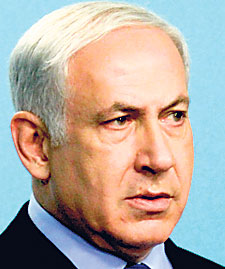 Benjamin
Netanyahu
Netanyahu made the remarks before a planned meeting next week with U.S. President Barack Obama in Washington, whose administration has been prodding its two important Middle East allies to mend fences after the raid in May.
"Israel cannot apologise that its soldiers were forced to defend themselves against a mob that almost butchered them; they defended themselves from a lynch. We regret the loss of life," he said in an interview with state-owned Israeli television.
Turkey has been pressing for Israel to apologise for the May 31 raid and pay compensation to its victims when troops boarded a vessel to enforce an Israeli blockade on the Gaza Strip. "There are still no agreements between us and Turkey," Netanyahu said. "But it is good to try to stop the deterioration" in relations.
Turkey, a strategic regional ally of Washington and for more than a decade of Israel as well, has withdrawn its ambassador from Tel Aviv and cancelled military exercises with Israel since the May 31 raid.