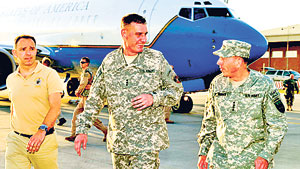 General David Petraeus (R) speaks with Commander of ISAF Joint Command Lt. Gen. David Rodriguez (C) as NATO's Senior Civilian Representative to Afghanistan Mark Sedwill walks past during their arrival in Kabul.
KABUL, July 3, (AFP) -US General David Petraeus appealed for a united effort to end almost nine years of war against the Taliban as he made his public debut as the commander of NATO forces in Afghanistan.
The four-star general, who arrived in the Afghan capital on Friday, faces a tough task to bring peace and secure a face-saving exit for allied troops fighting the Taliban, observers say. "This is an effort in which we must achieve unity of effort and common purpose. Civilian and military, Afghan and international, we are part of one team with one mission," said Petraeus at the US embassy in Kabul.
"On this important endeavour, co-operation is not optional," Petraeus added. Replacing the sacked US General Stanley McChrystal, Petraeus has said the Afghan war is likely to get tougher before significant improvements are seen.