HOUSTON, July 2 (REUTERS) -Washington was preparing a revised offshore oil drilling moratorium and cleanup efforts in the Gulf of Mexico returned to normal on Friday after hurricane Alex passed through the region without doing major damage.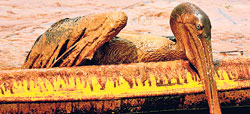 An exhausted oil-covered brown pelican tries to climb over an oil containment boom along Queen Bess Island Pelican Rookery, northeast of Grand Isle, Louisiana. REUTERS
The U.S. Interior Department, one of the departments spearheading the response to the BP oil spill, could issue a revised offshore oil drilling moratorium for U.S. waters in the coming week. A federal court last week struck down a six-month drilling ban imposed by the Obama administration in response to the worst offshore oil spill in U.S. history. The new moratorium is expected to be more flexible and could be adjusted to allow drilling in certain subsea fields.
In another political development, bipartisan lawmakers on Friday sought tax breaks for mostly small business to help cushion the economic blow from the disaster, which has devastated Gulf fishing and tourist industries.
U.S. senators from Florida, Mississippi and other spill-hit states asked the leaders of the Senate's tax-writing finance committee to back tax relief aimed at boosting economies in states with thousands of workers displaced by the spill.
BP's cleanup operations, interrupted this week by choppy
seas and gusty winds from Alex, were getting back to normal as the storm weakened and passed through the spill area off the coast of Louisiana, company spokesman Mark Proegler said.
Those operations included containment booming and flights to spray dispersant chemicals on the water's surface, he said. Alex had pushed more crude onto beaches and marshes along the U.S. Gulf coast, hampering efforts to clean up the oil leaking from the BP's blown-out undersea well. BP said its oil-capture systems collected or burned off more than 25,000 barrels of oil on Thursday.
Robert Dudley, chief of BP's Gulf Coast restoration efforts, said high seas and winds had propelled the landward advance of the far-flung oil slick."