The British High Commissioner, Dr. Peter Hayes, paid a visit to the Tea Museum, following an ancestral tea trail.
"Dr. Hayes is a keen follower of the Sir Lanka tea industry as it is reported that his ancestors (Hayes family) owned a tea plantation in the southern part of Sri Lanka," said a press release on the British High Commissioner's visit to the Tea Museum on April, 26, 2010.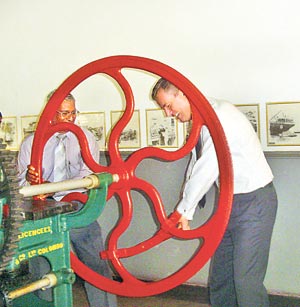 Seen here Dr. Peter Hayes at the Tea Museum
During the visit, the British High Commissioner had said that he would request British tour operators to Sri Lanka, to include Ceylon Tea Museum in their itinerary.
The British introduced the first tea plant to Sri Lanka in 1824. This was not for commercial purposes and the tree was planted in the Royal Botanical Gardens, Peradeniya.
The first commercial planting of tea was in 1867 by a James Taylor. Since then, tea has remained one of the biggest Sri Lankan exports to the world.
The Ceylon Tea Museum itself is located in the Hantane tea factory, built in 1925. The museum, which is jointly operated by the Sri Lanka Tea Board and tea industry stakeholders, is one of the best museums of its kind, in the world providing valuable insights into the early days of tea manufacturing.
The Museum consists of four floors. The ground floor and second floor exhibit very old items of machinery. The third floor consists of a library and an auditorium with facilities for audio visual presentations.
A panoramic view of the Kandy town surrounded by the beautiful Hunnasgirirya, Knuckles range and the Matale range of hills, can be viewed through a telescope mounted on the fourth floor. The Ceylon Tea Museum is open to public from Tuesday to Sunday and is closed on Mondays and Poya Days.