This week, Brandix Lanka, Sri Lanka's biggest garment exporter, opened a 1,000 acre apparel park in India. The Brandix India Apparel City (BIAC), at Vishakhapatnam, in Andhra Pradesh, India, is one of the largest textile industry specific, special economic zones in the world, and the only one of its scale and concept in South Asia.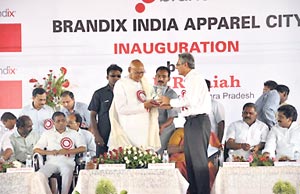 Brandix CEO Ashroff Omar and Andra Pradesh Chief Minister Konijeti Rosaiah at the opening of BIAC.
"BIAC forges a strong link between the apparel and related ancillary manufacturing capabilities of Sri Lanka and India, and builds a vast pool of synergies that will add infinite capacity and depth to the South Asian region at a time when economies of scale are critical to growth," said Brandix in a statement announcing the opening of the apparel park on May 3.
Brandx says the park will link international brand names, manufacturing operations and service providers, to help consolidate the South Asian region's strength as a major apparel hub.
The apparel park is designed and constructed exclusively to accommodate top international apparel sector manufacturers. When fully occupied, BIAC will accommodate up to 20 apparel manufacturing plants, three fabric mills, eight accessories manufacturers and a finishing plant.
The vertically-integrated manufacturing zone is geared to support large scale knitting, garment manufacture, finishing, printing and embellishments with common facilities. Ancillary service providers including a centralised logistics facility are supported with infrastructure services of power supply, water, communications, roads and worker facilities.
Brandix says BIAC has been developed as an ecologically sustainable site that features green infrastructure and sustainable designs. The park's integrated green infrastructure and efficient engineering designs ensure that final construction maximizes eco-industrial balance and meets sustainability business objectives.