Depositors of troubled Ceylinco companies are furious over Ceylinco Insurance Chairman Lalith Kotelawala's re-election bid as chairman of Ceylinco Insurance, and vow to petition the Supreme Court against the move.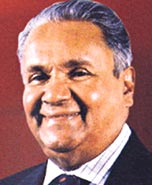 Lalith Kotelawala
The May 26 agenda for the company's AGM has listed a resolution in which Mr Kotelawala, 71 years, is seeking re-election. "If the news is true we will definitely go to courts to take necessary legal action", Goshitha Dullewa, a spokesman of the Ceylinco Shriram Depositors Association told the Business Times. He said that they are discussing with their lawyers with regard to this matter as there was no earlier court order restraining the disgraced Ceylinco chief from seeking re-election in any Ceylinco company.
Top corporate lawyer Ariththa Wickramanayake said regulations governing the insurance industry have clear provisions on 'fit and proper' persons serving as directors. "Given his failure to run many companies, he is clearly not fit to serve as a director. It would be scandalous if the shareholders re-elect him," he said.
President of the Golden Key Depositors Association, Anusha Emmert said that they were perturbed by this action by an individual who defrauded their money. "He has no right to seek re-election as chairman in Ceylinco Insurance or any other company. Mr Kotelawala should fulfill his obligations to depositors first rather than trying to take up posts in these companies," she said.
A senior company official said Ceylinco Insurance has severed links to Kotelawala's troubled group when firms controlled by him sold their stakes in the insurance firm last year. Most Ceylinco group companies held shares in Ceylinco Insurance and with the troubled times naturally they had to dispose their assets to honor commitments.
"So there has been a fair shift in shareholdings," he said. President of the F&G Depositors Association Neelanie Goonetillake said Mr Kotelawala has no moral right to take up positions in Ceylinco Insurance or any other company because he is responsible for a massive financial misappropriation, a magnitude of which was not seen before in the country. She said that Mr Kotelawala should consider the plight of depositors and come out with a solution to find redress for them rather than seeking high posts.