Wataniya Telecom Maldives launched mLearning, an innovative learning concept that delivers education anywhere, in partnership with Mobitel Sri Lanka and the University of Colombo. Maldivian Vice President, Dr. Mohammed Waheed Hassan graced the occasion, the Colombo telecom firm said in a statement.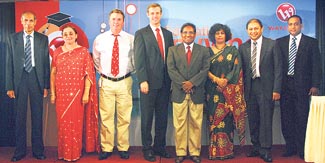 (From left) -- Prof. Sunil Chandrasena – Dean Faculty of Graduate Studies, Prof. Kshanika Hirimburegama – Vice Chancellor, University of Colombo, Stephan Smith – Chief Commercial Officer and Abraham G. Smith – COO, Wataniya Telecom Maldives, Dr. Mohamed Waheed Hassan Manik - Maldives Vice President, Leisha De Silva Chandrasena – Chairperson Sri Lanka Telecom Mobitel, Suren J Amarasekera – CEO Sri Lanka Telecom Mobitel and Janaka Jayalath – Senior General Manager, Sri Lanka Telecom Mobitel.
mLearning, or Mobile Learning, is a teaching and learning concept that breaks traditional boundaries of education through the use of advanced technologies. Using Wataniya's 3G+ network, students will now be able to use mobile and handheld devices such as laptops, mobile phones or PCs to learn in virtual classrooms, anywhere in the country.
The first mLearning course available under this initiative is the Executive Diploma in Marketing from the University of Colombo. The 1-year course is fully accredited by the Maldives Accreditation Board and registration available online at www.wataniya.mv. Students registering for the course will receive a wModem and a Wataniya mobile broadband connection and for the year an exclusive prepaid connection. Wataniya expects to introduce other courses in the near future.