The Auston Institute of Management Ceylon this week launched its education services at a four-storied building in Bambalapitiya with an investment of $1.5 million, as the demand for international education and qualifications continues to grow in Sri Lanka.
Approximately 9,000 to 10,000 students leave the island annually seeking foreign education, in the UK, US, Australia Canada and China. Some of them are studying in countries like India, Bangladesh, Singapore, Russia and even Nepal.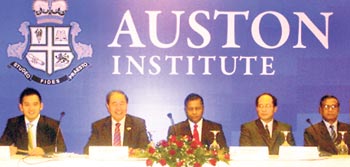 Picture shows Michael Lin, Regional Managing Director, Auston Institute of Management addressing the media in the presence of Tan Kah Hoe, Chairman, Nimal Hapuarachchy, Executive Director, Auston Institute of Management Ceylon, Dr Sia Eng Kee, Head of Academics, Auston Institute of Management Singapore and Gamini Jayasuriya, Head of Academics, Auston Institute of Management Ceylon .
Sri Lankan parents pay over $60 million to educate their children overseas as local universities can accommodate only 20,800 students out of over 100,000 who sit for the GCE Advanced Level examination.
The Auston Institute of Management Ceylon, a subsidiary of Singapore's Auston Institute of Management has stepped in to assist these Sri Lankan students obtain a degree from Coventry University, a well known UK university, by spending Rs. 950,000 rather than seeking overseas educational opportunities paying high fees, said retired Singapore High Commissioner in Sri Lanka and Chairman of Auston, Tan Kah Hoe,when he spoke to Business Times on the sidelines of the launching ceremony of the institute in Colombo on Tuesday.
In his welcome address at the launch of the Institute, Mr Tan said, "Sri Lanka and Singapore have always shared a positive relationship - one of support and mutual respect and understanding. Sri Lanka is at a turning point at this time and one way that Singapore feels it can strengthen Sri Lanka is through our model for higher education. Auston offers students the freedom to study in their own country and yet have the kind of academic experience that will gain them entry into any international working environment."
Managing Director Michael Lin noted that Sri Lankan students can read for qualifications in Management, Information Technology or Engineering with the option of pursuing a portion of their course at a campus in Singapore or UK. Head of Academics Gamini Jayasuriya said students at Auston will enjoy quality higher education at a modern campus.
Auston is equipped with the necessary infrastructure and training facilities, including spacious digital-media classrooms, a state-of-the-art computer laboratory and resource centre to enhance our students' learning experiences.