The next six years will see a massive revolution in the country's economic sphere where the people will be ensured with decent living under a new government with a pruned cabinet of 40 ministers and an equal number of deputy ministers through a mixed ecoomic strategy of treating both public and private sectors as partners of the engine of growth, a senior minister said.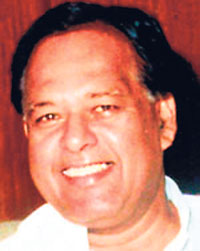 Dr. Sarath Amunugama
Minister of Public Administration and Home Affairs Dr. Sarath Amunugama, in a phone interview with the Business Times on Thursday, disclosed that the Presidential Secretariat headed by Secretary to the President Lalith Weeratunge is now working on redesigning functions of ministries to do away with overlapping and duplicating of its services to the public. "We are going to encourage our big companies to go abroad and start businesses overseas.
This will be a major initiative of the new government that will be formed after the April 8 elections. Every effort will be maintained to achieve 7 % economic growth this year," he said. He said the overall fiscal programme will reduce the budget deficit to 5 % of gross domestic product in 2010, while the economy is poised to grow by 7 to 9 % in the medium term Mr Amunugama noted that Sri Lanka can expect more immediate benefits like the reduction of freight rates, reduction of risk insurance, reduction of better ratings which will give a bigger impetus this year. A large sum of money was invested in infrastructure for the past six years. Phase one of the Norochcholai project has already been completed. The Upper Kotmale project is now on stream. All development projects will begin to pay off this year, he said.
Dr. Amunugama pointed out that electoral reforms will be introduced after the poll as the present preferential voting system has become a serious problem for both the public and candidates. "That's why we want to have this election and be done with it. Otherwise, the President and the Cabinet is always held hostage by various interested groups such as backbenchers and various groups that won't allow the pursuit of a common policy. One strategy is to have this election so that the next six years will be peace and quiet and we can continue with economic growth," he said.
Referring to the current political campaign he said that some uneducated candidates have brought the caste factor to the forefront of the election campaign for the first time in the recent history of Sri Lanka and such activities should not be tolerated by the people. Educated persons should be sent to parliament for the betterment of the country.