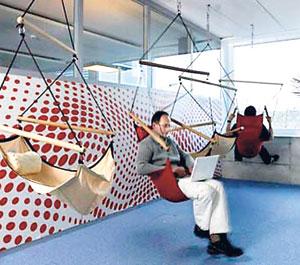 Wherever you turn, today's corporate world is all about paperless offices, laptops, smart mobile devices, laser printers, virtual offices, more collaborative spaces, videoconferencing, shared and managed services, 'plug and play' offices, etc. In fact, the most common term of all representing tomorrowOFFICE is paperless. Ironically, this was first coined in the 1940's, when mainframes were first introduced, and referred to the eventual automation of all data which was at the time stored exclusively on paper. While many of the abovementioned tomorrowOFFICE elements will by necessity fold into future concepts, most agree that many have not yet reached their ultimate level of miniaturisation or efficacy which will see them seamlessly integrate into the fabric of the office of tomorrow.
Meanwhile, shared visions of tomorrow offer increasingly simplified and uncluttered workspaces, which are almost indistinguishable from the outdoors. Coloured in light shades, and airy with plants; these offices will have no file cabinets, keyboard, monitor or mouse. All will be replaced by voice recognition capable wallpaper type display which, when not in use, would be transparent. Meanwhile if you need to type or scroll, as if with a touch pad, touch sensitive projections of keyboard and touch pad will appear on your desk.
Exploring tomorrow's world today
Recently an innovative advertisement on a foreign news channel showed a classroom filled with children and a teacher. A visitor walks into the room and asks the children what they plan to do next week. "We are going to China," shout the kids. "That's wonderful," says the surprised visitor, adding: "How do you plan to do that?"
"See, see …," the children shout once again, pointing to a large, flat television screen behind the visitor which shows smiling and waving children in a classroom in China.
The message here is that technology has got so advanced that one doesn't need to travel (other than using it as a experience) to learn about or deal with other countries. Advanced communication is taking care of this through innovations like video conferencing, conference calls, video chats, video lessons, Internet, Skype and all forms of social networks. The opportunities and ways of doing this is endless with new methods coming up almost daily to feed the hunger of a world eager for information and new ways of communicating.
The advertisement in a sense also reflected the classroom of the future which is the theme of a new series in the Business Times. In the weeks and months ahead, reporter Jagdish Hathiramani will profile the new age and what the future would look like in our classroom, our home, our office space, our car, our hospital, our general practitioner's consultation room and loads and loads of what our space and the environment we live in would look like. Hathiramani says the future is closer than we think as technologists tell us that the world of tomorrow has already seamlessly and inextricable intruded in our lives today; to such a degree that, for those of only two or three generations past, we already live in a world that is almost indistinguishable from magic. This is about tomorrow.
This is the tomorrowSERIES. Write in with your comments and suggestions to Jagdish at mobileoption@gmail.com and join him as he explores tomorrow's world, TODAY.
At the same time, meeting rooms and other collaborative spaces at offices may also cease to exist due to total immersion technologies which will link your cubicle to others and aggregate to create the reality of an in-person meeting or multi-personnel conference. In addition, this technology will prompt a re-imagining of video-conferencing so your's an your colleagues' cubicles can seamlessly transcend from an individual to a group workspace, depending on your minute by minute needs, which will also allow linking colleagues both close and far away into the real time interface.
Data on the go
And as for your personal data, it will move with you of course; no need for a thumb drive, a data CD or any other storage device; storage, like your personal identification number (one unique number which will multi-purpose as your contact number, email,etc.), will move with you when you move and automatically update devices in your vicinity, all filtered according to private and public security and privacy levels. In fact, you yourself will become the ultimate smart device and the proposed microgramme-sized device with heads up display which is being proposed today in lieu of mobile phones will be painlessly embedded on your person and will also carry your credit history and your certificates for insurance, driving, etc.
This allows a project/document to be worked on while en route from office to commute to home and vice versa without a noticeable gap in the workflow. Unfortunately, this system also means that you will work more hours and that you will remain in touch with your office during vacation periods.
And, because of a predicted blurring between the functionality tomorrow's office and tomorrow's home, the virtual office concept will kick in when you reach home as well as being accessible 24/7 in all rooms of your home. How would it feel if your bed had a built-in office? More on this in upcoming installments of the tomorrowSERIES.
However, due to this constant and networking element of the modern workplace, it is believed that emotional intelligence will be even more valued than previously. Other areas which will also increasingly include more collaboration with less in-person interaction, less travel replaced by more telecommuting, and less investment in traditional expenses like leases, property taxes and facilities maintenance.
Biometrics
Other tech that may appear in the offices of tomorrow includes: sensors in the office that tracks occupants biometrics and changes temperature, light level, etc to improve worker output and ergonomics. A full shift towards collaborative spaces where, instead of cubicles, people could share one communal room akin to a large library and sit at any open space which will come preset with required work devices.
Additionally, one idea even suggests the re-definition of our understanding of the way people work; and most startling of all, it is an idea which has already proven its worth in, of all places, Kenya through a innovative company and service called txteagle. In fact, the example of txteagle may prove more revolutionary to the way we work in the long run than evolutionary.
Using 'crowdsourcing', simple micro-jobs like transcribing, checking search engine results, etc. are farmed at a vast and unaffiliated labour pool through mobile phones, which are almost universally possessed by the masses.
The idea ties in with the growng 'future of work' trend towards freelancing and enables txteagle to offer these micro-jobs to workers for a few cents for each job, thus allowing workers to take home as much US$5-US$10 a month for a extra few hours of work, a lot in Kenya. Others that have adopted this model, but with more professional and specialised freelancers, include Elance, InnoCentive and iStockphoto.