A major hindrance to the manufacture of sea crafts such as fishing boats, pleasure boats and all other type of vessels is the limited access to the sea, lamented, Neil Fernando, Chairman, Boat Building Technology Development Lanka (GTE) Ltd (BBTDL).
He was speaking at the press conference held in Colombo last week to announce the 2nd Boat Show Sri Lanka 2010 to be held from April 24 - 26 at the BMICH. The first Boat Show was held in 2008 and the present show is organized by BBTDL and Lanka Exhibition and Conference Services (Pvt) Ltd. This year the organizers expect more than 100 leading boat manufacturers from here and abroad to attend. Mr Fernando said that they have faced restrictions on the use of high powered marine engines, electronic and navigational and communications equipment which are core components in boat building which led them to tremendous hardships.
He said that the restrictions which are now relaxed is not adequate and requested the government to further relax the restrictions urgently that would allow rapid growth in the industry. With the rising number of tourists after the war, the demand for pleasure crafts is increasing and hotels located in the coastal belt are looking at development of water sports.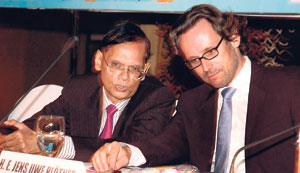 Prof G L Peiris, has a word with German Ambassador to Sri Lanka, Jens Uwe Plotner
Mr Fernando said that the harbours in Sri Lanka are built to provide anchorage for fishing vessels, but to expand the boat building industry as a whole, these harbours should provide anchorage for pleasure crafts, sailing vessels, yachts and other vessels.
He said that a large number of local tourists visit places like Nagadeepa in the north but a serious safety concern has been raised as the crafts use to carry these tourists are mainly built with wood and are heavily overloaded and most of these vessels do not have the necessary life saving equipment.
He said that in the South too for whale and dolphin watching, fishing vessels are used which are not suitable for this purpose as they lack safety facilities. Thus there is an imminent danger to human life, he said.
Prof G L Peiris, Minister of Export Development and International Trade in his speech said that there is a major boom in the travel industry in Sri Lanka and they expect around 600,000 tourists this year. Jens Uwe Plotner, German Ambassador in Sri Lanka also participated.