Stakeholders at the Colombo bourse are calling for increased liquidity in the market to attract major international funds and investors saying unless this happens Colombo will remain a place attracting just small players.
"The Colombo Stock Exchange (CSE) increased by 130% last year and was the second best performer in the world, but it was mostly driven by local investors and significant public institutional investors. There was Rs 800 million last year in foreign outflows and they were net sellers. During the past two months they were net sellers of about Rs 2-3 billion and still counting. Despite all the hype, we are only a dot - our market capitalisation is Rs. 110 billion, which is the size of one large Indian company," Channa Amaratunga, Director CT Capital told an exclusive panel discussion on the stockmarket organised by the Business Times on Wednesday.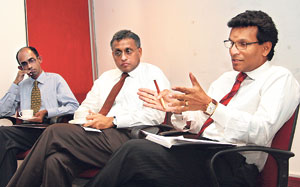 Panel discussion in progress. From left - Channa Amaratunga, Vajira Kulatilaka and Thilan Wijesinghe (speaking).
He said that the main difficulty in converting foreign investor interest to the CSE is the lack of market liquidity adding that only John Keells Holdings (JKH) attracts investors. "Firms such as Sri Lanka Telecom have only 3% free float. A serious foreign investor is interested in firms that have material size and in exchanges which have liquidity," he said, adding that till this issue is addressed, the CSE will remain the domain of small timers. He noted that post-war there have been many listings, but that their sizes are not attractive.
"Firms with decent size and is liquid matter to foreign investors. So nine out of 10 will buy JKH, not because it's the best company but because of its free float and the fact that it has no single controlling investor." Referring to the regulatory environment, Mr. Amaratunga noted that manipulation in trading has happened in the most blatant form during the past few months and the Securities and Exchange Commission should take immediate steps to stop it.
Vajira Kulatilaka, CEO NDB Investment Banking Cluster told the discussion held at the Wijeya Newspapers Ltd auditorium that with 30 years of war out of the way, the sentiments of the people have risen considerably.
"There's huge energy in people. The past cannot be a reflection of the future. At the same time, the Government should outline a proper investment policy and give the right signals to the community. For instance when we approach people to list their firms, they are afraid that they'll get taxed. These uncertainties should be eradicated," he noted. He said now Sri Lanka is the safest country in the region and the Government has a lot do to achieve 10% growth.
Thilan Wijesinghe, Group Managing Director of Overseas Realty Ceylon Ltd said that the CSE is on the periphery of stock exchanges due to liquidity issues, and that there are a host of listed firms which have only one entity – such as a land, a building, etc. "There should be more mergers and acquisitions and build up of more critical mass to create big entities," he said. He also said there has been a deterioration of telecom companies from all profit making to all loss making during the years mainly due to the bad regulatory environment.
He said that one way to address poor liquidity is to ensure that foreign banks are publicly listed (similar to what happens abroad). "They should be made to divest or list 49% of their shares locally."
Mr Wijesinghe, whose company owns the World Trade Centre and the mega Havelock City apartment complex, said that the property market is moving outside Colombo due to tourism and agriculture and that the East coast prices have doubled. "In terms of the property market, the outlook is very bullish," he said, adding that property will play a big part in growth.