The AMW Training Academy was recently accredited by IMI (The Institute of the Motor Industry) Awards, the first of its kind in the region. This was obtained following a rigorous evaluation process, the company said.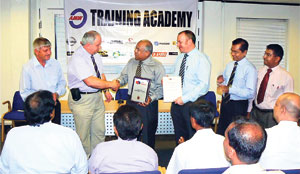 Picture shows -- Garry Hewerdine, the IMI Official Representative awarding the "IMI APPROVED CENTRE" accolade to the President of the Board of AMW Group, Thilak De Zoysa.
The AMW Training Academy was ceremonially opened by the President of the Board of AMW Group Tilak De Zoysa, and the Chairman of Associated Motorways (Pvt) Ltd Len Hunt. The other distinguished guests who participated for that event were Michael Brightmore Managing Director of Associated Motorways, Director for Special Projects of Al Futtaim Group Paul Batson, Director of AMW Pavez Ali, and the Commercial Advisor for AMW Parag Pandit.
The AMW Training Academy is to support all the technical staff members of AMW team by delivering training programs to improve skills and knowledge to international standards allowing them to offer excellence in customer service. IMI is the leading professional association for motor industry qualification and accreditations in United Kingdom and recognized worldwide.