The latest academic opportunity available at ABS for potential Postgraduates is a flexible, low cost, high quality MBA from Australia that can be completed over a period of 12 months. 'ABS' with its excellent record in providing 'Dedicated Coaching with Care' for CIM and CIMA examinations for over 15 years undoubtedly contributes to its potential of conducting the MBA programmes, offered as MBA GENERIC with specializations in HRM, MARKETING and FINANCE . This programme is delivered by a top end faculty holding MBA and Doctoral Level Qualifications with Practical Exposure to the Industry, practising what they teach.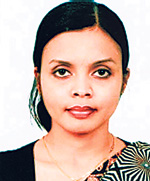 Chamila Priyangani Brand Manager - Lankem Paints PLC
Australian Institute of Business Administration (AIBA)
The Australian Institute of Business Administration (AIBA) is a member of the Gibaran Learning Group - a leading global business higher education group and takes great pride in offering this 12 Month MBA in South Australia and internationally. The AIBA 12 Month MBA was developed to provide an affordable, practical, 'fast route' to career advancement for executives and business owners.
Frequently asked Questions - FAQs
1. Will an MBA from an institute, rather than a University, be recognised in business and by employers?
It is globally accepted that some of the best MBA programmes are conducted by management development institutions such as IMD from Switzerland, INSEAD near Paris and Henley in the UK. AIBA along with the other members of the Gibaran Learning Group possess some very unique degree conferring powers guaranteed by the Australian Government. In fact AIBA is accredited under AQF-Australian Qualifications Framework similar to Australian Universities.
2. Who will be teaching the MBA?
The course will be delivered by a team of experienced industry leaders and highly respected academics delivering lectures at ABS using a state-of-the-art ISO 9001:2008 Certified Quality Process.
3. I don't have a bachelor's degree (first degree) or any qualifications. Can I still do my MBA?
Yes - if you fulfil the 3 Years Managerial Experience acceptable to AIBA (GLGs Registrar) -Australia.
Requirement of the special entry criteria listed.
4. My previous study is in an unrelated area to business; Can I still apply?
Yes - as long as you fulfil the entry requirements. Contact ABS for verification.
Contact ABS on 0772282997 or 4510101 and reserve your place for a placement interview.