Welcome to creative minds, ones who wish to play with colour, texture, pattern, and science and enter the most exciting industry in the world - FASHION. Among fashion education Institutes, Lanka Institute of Fashion Technology (LIFT) has carved an enviable niche for itself. LIFT is earnestly dedicated to the cause of spreading fashion education, and it has the rare distinction of being the first Institute in Sri Lanka, offering courses in Fashion design. The institute is committed to anticipating and fulfilling the ever changing requirements of the fashion industry, and the need of creative applications to the fashion industry.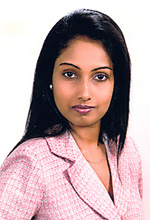 Niroshani Leanage
LIFT offers courses in fashion design where students could begin with the very basics and continue up to the degree level. The courses offered are Diploma in Fashion Design (18 months) and the Advanced Diploma in fashion (1 year). Students who wish to continue part of their studies abroad have the opportunity to get transferred to various universities and institutions in UK, Singapore and Australia to complete their Degrees or Master's degrees.
"The option of choosing pathways to specialize in three areas such as Fashion design, Textile design or Footwear and Accessory design is an advantage for students as they have a wider choice to select their future careers according to their talents. LIFT prides itself on encouraging students to have the confidence to express their individuality without feeling the pressure to unnecessarily confirm.
Creativity and the desire to challenge what is the 'norm', is a passionate belief of the course team, working alongside a strong grounding of commercial awareness, marketing strategies and client/customer needs. Our students are guided by foreign lecturers from The Robert Gordon University - Scotland-UK and also the links with the University of Northampton UK (through LIFT Overseas Study Placement Center) which provide various opportunities for them to experience world class education in fashion" Niroshani Leanage (Director of Studies).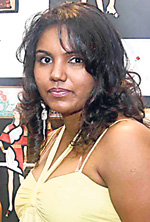 Piyumi Liyanage
Piyumi completed the diploma in Fashion and got transferred to Robert Gordon University Scotland - UK for the 2nd year of BA (Hons) in Fashion Design. "My interest in Fashion Design started at the Lanka Institute of Fashion Technology.
One of my tutors there recommended that I apply to Robert Gordon University as she knew that Grey's School of Art (the Art Faculty within the University) had started an excellent new BA course on Fashion Design. The lecturers are very supportive and helpful; they offer constructive feedback that has really helped with my development. Grey's also has good facilities to allow you to experiment in the design studio and workroom.
Exposure to the fashion industry is a major part of my course and the placements that the university help arrange link directly into my career aspirations.
While they don't guarantee that you get a placement, they do have a dedicated 'prepare for the placement' module to help students put together the best application and portfolio we possibly can to impress designers and companies.
We are also hoping to go on a class trip to Paris to see some exhibitions and designers in the home of fashion." Piyumi Liyanage.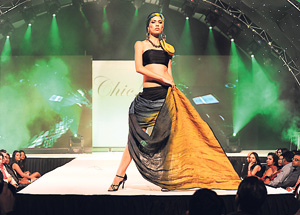 LIFT offers special programmes for the working individuals who have a busy schedule but still want to continue their studies. Classes are offered on Saturdays. Projects are design based and supported by technical expertise and illustration and portfolio presentation. Projects are integrated to offer a very complete project experience for all students.
Learning from internationally renowned designers gives students more confidence to move forward in the fashion industry. LIFT encourages external professionals to impart their most valuable knowledge to the students, with their experience in their own careers and business in the field of fashion. Practical workshops are also arranged on Screen printing, Surface embellishments and various other subjects related to fashion...
Whether you see yourself as an artist, a designer or a creative individual in search of formal fashion education, LIFT is the place to be. "Our aim is to provide a vibrant, stimulating and supporting environment with guidance where the students are able to experiment and explore new ideas. Fashion at LIFT prides itself on encouraging students to have the confidence to express their individuality" says Director of studies.
Lanka Institute of Fashion Technology is located at 112, New Bullers Road, Colombo - 04
Phone: 2592186 / 2507291